Files
Watch Jutta Kleinschmidt during the German Off-road Masters LIVE from a Polaris RZR 1000XP

Login to Download
Jutta Kleinschmidt und weitere Offroad-Begeisterte im POLARIS RZR 1000XP bei GORM 2017 live verfolgen

Login to Download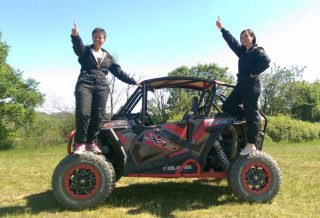 Jutta Kleinschmidt and Lina van de Mars compete in 24-hour German Off-road Masters in Polaris RZR 1000XP vehicles
Girls v Boys teams compete to win the racing battle
LIVE stream from inside the female-only team machine will be available online
ASS4x4 and WERK1 Racing will be racing two Polaris RZR 1000XP vehicles at the 24-hour German Off-road Masters (27-30 July) – with some well-known drivers – fans can watch LIVE on Facebook.
The team will run two Polaris RZR 1000XPs – one featuring a female-only team made up of the only lady Rally Dakar winner and racing star Jutta Kleinschmidt, TV celebrity Lina van de Mars and Polaris dealer Lenka Kalasova. The boys-only team will consist of rockstar and racing driver Victor Smolski, AutoBild journalist Bernd Volkens and veteran-racer and motoring journalist, Michael Podlogar.
The RZR driven by the female team will be fitted with three cameras, which can be alternated by the drivers – one on the front to watch the race from the driver's perspective, one on the driver and one on the rear. This will be available live on the OP. Dakar Facebook page here and on YouTube here.
Having never raced together before, the team is excited at the challenge.
Multiple 24h race competitor, Jutta Kleinschmidt, said: "I'm very excited and looking forward to the event. We have all met and practiced together and have gelled as a team. Having the cameras in the car will be very different and something I've never done before – it will be great for people to be able to watch the action live from inside the RZR."
12-time 24h Nürburgring and two-time FIA World Championship Dubai Desert Challenge racer, Michael Podlogar, said: "We have raced at this event for the last two years – this will be our third – and we always try and do something a little bit different. This year, it is 'Girls v Boys' and we're really looking forward to the challenge – we're all super competitive so no doubt it will be a great battle."
The GORM 24h event begins on the 27th July until 30th July. More information on the race can be found here: www.gorm-open.de
Ten years ago, Polaris changed the off-road world forever with the launch of the RZR 800. At 50-inches wide, the vehicle was the first trail-capable side-by-side offering a low center of gravity, unparalleled handling, ground-hugging performance and unmatched acceleration for a true sport experience. Now, the iconic Polaris RZR is the considered the ultimate combination of power, suspension, agility and comfort. Fueled by relentless innovation, the Polaris RZR range has been designed to dominate every type of off-road terrain. From trail and desert riding to duning, rock crawling and mudding – the RZR allows users to do it all.
For further media information on Polaris ORV products, please contact the Polaris ORV Media Office on +44 (0) 1525 270100 or email us at: press@polaris-orv.media or follow us on Twitter @polarisEMEA_PR
About Polaris
Polaris Industries Inc. (NYSE: PII) is a global powersports leader with annual 2015 sales of $4.7 billion. Polaris fuels the passion of riders, workers and outdoor enthusiasts with our RANGER®, RZR® and POLARIS GENERAL™ side-by-side off-road vehicles; our SPORTSMAN® and POLARIS ACE® all-terrain off-road vehicles; VICTORY® and INDIAN MOTORCYCLE® midsize and heavyweight motorcycles; SLINGSHOT®moto-roadsters; and Polaris RMK®, INDY®, SWITCHBACK® and RUSH® snowmobiles. Polaris enhances the riding experience with parts, garments and accessories sold under multiple recognizable brands, and has a growing presence in adjacent markets globally with products including military and commercial off-road vehicles, quadricycles, and electric vehicles. www.polaris.com