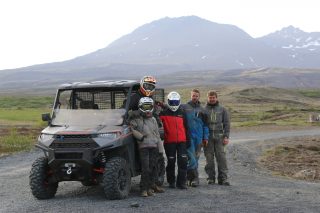 2018 marked the 20th anniversary of the Polaris RANGER – the iconic side-by-side utility vehicle – and saw the launch of the 'Ultimate RANGER Experience' competition which gave RANGER fans a chance to win a once-in-a-lifetime experience. Courtesy of Polaris, two lucky winners from Belgium were chosen to go on a remarkable trip to Iceland where they could explore the magnificent landscape up-close in a RANGER.
The trip consisted of three full days exploring everything that Iceland has to offer, from downtown Reykjavik to geothermal hotspots and breathtaking scenery across Southwest Iceland, along with the added bonus of staying in luxury hotels, experiencing some of the country's finest local cuisine and access to the country's top attractions.
Vadim Verbauwhede and his partner won the unforgettable trip after sending in images of his custom-built Polaris RANGER 570 whilst on a trip to Parque Nacional de Los Picos de Europa in Spain. His Polaris RANGER featured a custom aluminium trunk cover to protect his food and materials from being stolen by the resident bears.
Vadim said: "We entered the competition with the hope that we would win the experience in Iceland, because it's always been a place we've really wanted to go, so naturally when we heard that we had won the RANGER experience in Iceland, we couldn't believe it."
Hosted by Stormur, the Polaris Off-Road distributor in Iceland, the winners were welcomed with a dinner in Reykjavik, followed by a day of guided tours, exhibitions, and free time to explore the capital. Once they were accustomed to Icelandic culture from the city, it was time to set off and see the wonders of Iceland's natural climate. In a RANGER XP 1000, the winners had a full-day tour of the magnificent Golden Circle, experiencing the Gullfoss Waterfall, Thingvellir National Park and Karið – the volcanic crater lake. The third day saw the winners travelling to the world-famous Blue Lagoon spa, finishing the experience in ultimate relaxation.
"The trip was insane – we covered miles and miles of off-road tracks in the RANGER and got to see beautiful landscapes that we would not have been able to reach without it. At home, we don't have as many places to go off-roading like they do in Iceland, so going over the rocky roads and big boulders in the RANGER was a real treat. We were so surprised by the amount of power it has and the capability of the suspension on such rough ground. Thank you so much to Ásdis and Guðmundur from Stormur for the perfect trip."
Forming a key part of the Polaris product line as their best-selling utility vehicle, the RANGER is used globally for a variety of tasks. Last year marked the 20th anniversary of the iconic model, just a few months after the brand celebrated the one millionth RANGER unit rolling off the production line.
For further media information on Polaris ORV products, please contact the Polaris ORV Media Office on +44 (0) 1525 270100 or email us at: press@polaris-orv.media or follow us on Twitter @polarisEMEA_PR
About Polaris
Polaris Industries Inc. (NYSE: PII) is a global powersports leader with annual 2017 sales of $5.4 billion. Polaris fuels the passion of riders, workers and outdoor enthusiasts with our RANGER®, RZR® and POLARIS GENERAL™ side-by-side off-road vehicles; our SPORTSMAN® and POLARIS ACE® all-terrain off-road vehicles; INDIAN MOTORCYCLE® midsize and heavyweight motorcycles; SLINGSHOT® moto-roadsters; and Polaris RMK®, INDY®, SWITCHBACK® and RUSH® snowmobiles. Polaris enhances the riding experience with parts, garments and accessories sold under multiple recognizable brands, and has a growing presence in adjacent markets globally with products including military and commercial off-road vehicles, quadricycles, and electric vehicles. www.polaris.com