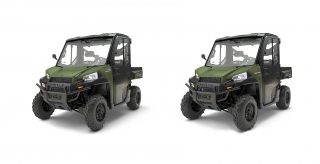 Now the Polaris Ranger Diesel and Ranger XP900 are virtually identical twins and both offer peak performance. You have the choice of a petrol engine with the Ranger 68hp XP900 ProStar engine that is purpose built, tuned and designed for balanced and smooth, reliable power. The Engine Management System (EMS) delivers the torque and horsepower you need while allowing for optimal fuel economy. Should you prefer Diesel, the Ranger Diesel HD is built for purpose as well with a 1028cc Kohler 3-cylinder overhead cam liquid-cooled engine. This proven, high performance diesel engine utilizes indirect injection and delivers smooth power with reduced combustion noise. The compact, heavy-duty design has a cast iron crankcase for durability and an aluminium cylinder head for weight reduction.
Both these twins are real workhorses with Active Descent Control for controlled hill descents, automatic four-wheel braking on steep inclines and Electronic Power Steering. To make life really comfortable, the industry exclusive Lock & Ride Pro-Fit cab system provides a new standard in accessory integration. The highly modular design offers options from robust canvas doors and a poly windscreen, to premium automotive glass tip-out windscreens and electric windows. The roof and rear panel on the Rangers come as standard. The ideal seat height combines with wide foot clearance for easy entry and exit. There's a full ten inches of tilt steering adjustment and room for three adults. The payload capacity on these machines is 680.4 kg, with a gas-assisted rear dump box that can handle a hefty 454 kg of materials and a full-sized pallet. A 7-pin trailer socket comes fitted as standard and when it comes to towing there's 907kg of class-leading towing capacity on tap. When the going gets rough the on-demand all-wheel drive kicks in for more forward traction when its needed, reverting back to 2WD when the terrain smoothes out.
Smooth is what these Polaris Rangers are all about, from the ride and handling to the descent down steep inclines, the 30.5cm ground clearance, power steering and VersaTrac Turf Mode that unlocks the rear differential for easier, tighter turns that won't tear up grass. All new Polaris Rangers and Sportsman models (excluding Youth) also come fitted with CESAR security systems as standard. And if you're not quite ready to purchase a new Ranger there is, in addition to the XP900, the even more powerful petrol Ranger XP1000 coming along for 2018.
Polaris Britain Ltd. 0800 915 6720 www.polaris-britain.com
-END-
6th September 2017
For more press information and images please contact: Tony Hawkins
Tony Hawkins & Associates 01844 279863 Mob: 0797 9598 999