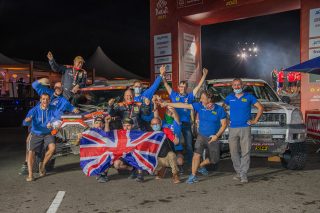 Introducing Graham Knight, an age-defying Polaris racer from the UK with an incredible story of how he achieved his dream of finishing the Dakar Rally.
How did you get into SSV racing?
Graham Knight had never ridden a motorcycle until he was 53 years of age when his friend, Alan Skirvin, sparked his interest in off-road riding by taking him to the Geraint Jones Enduro School in Wales where he learned to ride an off-road bike.
"One of the friends I rode with, Dave Watson, was a very good off-road rider and we'd go trail riding together and do big off-road trips to places like Italy and Morocco. One day a big group of us went trail riding up in the hills of Derbyshire, and we all stopped for something to eat at a cafe in Eyam, and it was there that we started talking about the Dakar Rally," said Graham Knight. "I remember trying to convince Dave to take on the Dakar, he was certainly good enough of a rider. I said to him, 'you really should do the Dakar, leave it to me and I'll sort it out, get some sponsors for you etc…', and that's exactly what we did."
In 2017, Graham, Dave and two friends, Paul and Peter, headed to South America in a Mercedes Sprinter Van with a works KTM in the back.
"I know a few people who have been to the Dakar before, and they all said, 'you need to know what you're doing when you take on the Dakar, you can't expect to do it as a private team without any experience – you need to have the proper support.' – it's the word 'can't' that got us itching to do it even more."
Graham serviced the bike for the race, and that year, Dave beat the odds and finished the 39th edition of the Dakar Rally in South America, aged 53, as a rookie rider – a tremendous achievement. 
"It was one of the best experiences out in South America; the emotion, the feeling – there was nothing quite like it. As soon as we left I knew I wanted to go back. I was 65 at the time, too old to ride the bike myself, and that's what led me into the path of SXS racing…"
Why Polaris?
"My pal Alan has a standard side-by-side, though he never let me drive it, and I looked at it and thought, 'I wonder if I could do the Dakar in one of those.' It wasn't long before I was researching the best SXS team in Dakar online, and came across Polaris."
It was at this time that Graham discovered Xtreme+; the first team to take a side-by-side to the Dakar and win it, and the team that held the top spot of the T3 podium for six consecutive years. 
"I called up Marco Piana, the Xtreme+ Team Manager, and one of the first things he asked me was if I have ever been in a side-by-side before. I said no and he must have thought I was a complete nutcase. The Xtreme+ team is based close to Lyon, France, so I made plans to fly out and see Marco the week after. I went, and I ordered a Polaris RZR then and there. It didn't take much convincing.
"Dave turned to me and said, 'I would never have gone to Dakar if you hadn't pushed me, and it was the highlight of my life, so if you want to do it, I'll do it with you'. He has supported me all the way through my journey, navigated every race I've ever done and coached me through things I found difficult to master – like sand dunes. I wouldn't have been able to do it without him."
The journey to Dakar
In order to take on the Dakar Rally, Graham needed some practice in the Polaris RZR. The first thing Graham did was to rent a RZR from Marco to take on the 2019 FIA Dubai Baja to see how they would get on. This was his and Dave's first time on sand dunes in a side-by-side, and remarkably, they won it by 20 seconds.
That year, they competed in the Silk Way Rally, finishing fourth, as well as the Moroccan Desert Challenge and a few Bajas including the Italian Baja, Spanish Baja, and Baja Portalegre. By the time the 42nd edition of the Dakar Rally came around in 2020 – the first time the rally was to be held in Saudi Arabia – Graham and Dave were ready.
"Unfortunately, we had some mechanical problems on day 4 of the race, and I thought I was never going to be able to do it again. The feeling of preparing for something so big, for so long, for the opportunity to be taken away from you just like that – I was devastated and I can't quite describe the feeling. But that heartbreaking devastation is exactly what makes the Dakar such a dream – to finish the Dakar Rally is, in my opinion, not only one of the biggest challenges you can undertake but also one of the biggest accomplishments in off-road racing."
Shortly after the Dakar Rally 2020 concluded, COVID-19 hit, and the majority of racing events came to a standstill. 
"During the first lockdown, I thought there's no chance I'm going to get the opportunity to do this again, especially given my age – I was 68, soon to be 69, at the time. Then later that year I saw the news that Dakar was confirmed to go ahead in 2021, and I thought, there's no question; we have to go! I was determined to finish the Dakar Rally.
"I was straight on the phone to Marco and ordered a brand new RZR Pro XP that was going to be built in time for the 2021 Dakar Rally. That year, I had entered many races in order to prepare for the Dakar but due to coronavirus, everything was cancelled. I spoke to my Polaris dealer, Martin Fletcher at Nora SXS and he was really supportive. He said to me, 'you can't go to Dakar next year without any training', so he convinced me to sign up for some British SXS Championship rounds to give me some extra 'bum in seat' practice time throughout 2020 in preparation for the next Dakar. This helped me tremendously.
"The Xtreme+ RZR Pro XP was built, but I had never seen it or driven it, and just before the Dakar Rally in January 2021, I went to France for two days of practice – not a dune in sight. My previous experience has all been in the RZR Turbo which I've driven for the last three years, so my first time trying out the new Pro XP was absolutely amazing. The difference between the old and new machines is like the difference between an Mk1 Volkswagen Golf and Mk5 Volkswagen Golf. Both great in their own way, but the Pro XP is so nice to drive, it's so comfortable, and it really was a joy to be in."
A dream come true
This year, Graham Knight successfully crossed the finish line in Jeddah, Saudi Arabia on 15th January after covering 7,646 kilometres over 12 stages, and earned himself and co-pilot Dave Watson their finishers medal. 
"There won't be anything bigger for me. The thing I am most proud of in my life is my Dakar finish, it's an experience that will stay with me forever. When I finished the Dakar, I was exhausted, I said, 'i've done it, but never again'. Ten days later once I was back at home, all I wanted was to be back in Saudi Arabia doing it again. I said to Dave, 'you know I said never again? Well, the jury's out."
Graham plans to take on some events this year, including the Hellas Rally in Greece, the Moroccan Desert Challenge and potentially some Bajas, but is still deliberating whether to take on Dakar 2022.
Memories to last a lifetime
"I've played team sports all my life, and never before have I experienced the same atmosphere, the spirit and camaraderie that I've seen at Dakar. It's the reason I wanted to do it so desperately. Tell me – what other sports at that level could you be there and a world champion walk right up to you and have a normal chat? Nasser Al-Attiyah did just that; it's so grounded and real, almost statusless. Everyone has their own reasons to take on such a brutal, almost-impossible event, and the passion for it breathes through the bivouac.
"My high and low points of the event are one and the same. One evening we were very late in getting back to the bivouac. We had to travel over 100 kilometres in the pitch black of the night across these massive dunes and it was a hugely nerve-wracking experience. I hadn't had any practice on the dunes at night and it can get very cold in the desert after sunset, but my suit was dripping with sweat because of the nerves. That being said, it was exhilarating at the same time! I got to know Vincent Gonzalez while he was driving with Polaris and we get on really well – he knew how much it meant to me to finish the Dakar, and he waited up for me until midnight to make sure I got back to the bivouac. I got back at 1 am that night, and the next morning he was the first person to come and check I'd made it. It's just another example of the camaraderie between riders."
Inspiring the younger generation
"When I started practising at the British SXS Championship last year, what I didn't realise was that there was also a youth racing series, which is perfect for my grandson. I bought a little Polaris Ace 570 last year from Martin at Nora SXS and now my grandson and I go together. Last year, he competed in three races and got podiums finishes in every race. We'll be doing it again together this year and it's a wonderful way to spend some quality time with him."
Now, Graham's grandson's dream is to do the Dakar when he's older, following in his grandad's footsteps.
For more information on the Dakar Rally, please visit www.dakar.com
FOR FURTHER MEDIA INFORMATION ON POLARIS ORV PRODUCTS, PLEASE CONTACT THE POLARIS ORV MEDIA OFFICE AT PRESS@POLARIS-ORV.MEDIA.
About Polaris
As the global leader in powersports, Polaris Inc. (NYSE: PII) pioneers product breakthroughs and enriching experiences and services that have invited people to discover the joy of being outdoors since our founding in 1954. With annual 2019 sales of $6.8 billion, Polaris' high-quality product line-up includes the Polaris RANGER, RZR and GENERAL side-by-side off-road vehicles; Sportsman all-terrain off-road vehicles; Indian Motorcycle mid-size and heavyweight motorcycles; Slingshot moto-roadsters; snowmobiles; and deck, cruiser and pontoon boats, including industry-leading Bennington pontoons. Polaris enhances the riding experience with parts, garments and accessories, along with a growing aftermarket portfolio, including TransAmerica Auto Parts. Polaris' presence in adjacent markets includes military and commercial off-road vehicles, quadricycles, and electric vehicles. Proudly headquartered in Minnesota, Polaris serves more than 100 countries across the globe.