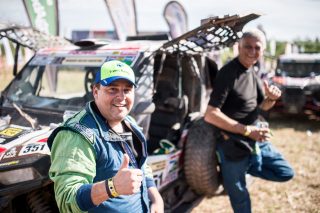 The 39th edition of the iconic and world-respected Dakar event took place in January in South America – with Polaris notching up their sixth win at the event, but taking the very first official SSV (UTV) class title in the process.
45-year-old, Leandro Torres, along with his co-driver Lourival Roldan crossed the final day's finish line in their factory Xtremeplus Polaris RZR1000XT machine with an impressive 4h 42m advantage ahead of their competition. As a result the Brazilian paring became the first Official Dakar SSV class winners in the world's toughest race.
Reinforcing the dominance and reliability of the RZR1000, when the final flag dropped only Polaris machines could lay claim to finishing the gruelling 12-day event in the SSV class; a huge credit to the Xtremeplus factory team, with every one of their five crews completing the 9,000km race.
The 2017 Dakar Champion shared his unique experience and achievement.
Becoming a SSV Dakar winner was not a short journey for the Brazilian driver – and not just in terms of the 9000km race he completed.
"I was convinced by my two sons to go for the biggest adventure of my life – so that's how I ended up entering the Dakar for the first time in 2016. From 2007 to 2009 I competed in motorcycle rallies, after that I moved to cars in 2013 and we had the first big test of the UTV – it was then I realised it was the best vehicle to run in Brazil. I started my relationship with Xtremeplus in 2014 and have worked with them ever since."
In his first Dakar in 2016, Torres simply wanted to finish – and he did. He finished in 57th position, awarding him third place in his class. 
"Through my relationship with Xtremeplus, I saw the possibility to achieve a dream of completing a Dakar, which we achieved in 2016 with much sacrifice. The experience that we acquired in this first Dakar was fundamental to our success in 2017. We knew how difficult it was to complete a Dakar and the adversities that the race has. Taking risks at the right times is key to success.

"During our preparation for the 2016 Dakar, we went to Morocco with Xtremeplus, where we experienced several difficult navigational situations. Arriving in Brazil, I called Lourival – my co-driver – and asked him to drive with me in the Dakar and he accepted my invitation immediately.

It would be the ninth time he would take part in the Dakar so he brought a wealth of experience and knowledge."
Having a co-driver, you can trust and depend on is just one element of a successful Dakar attempt.
"Our relationship has always been based on a lot of respect and companionship. It seems like we have the same goals. I'm 45 years old and Lourival [Roldan] is 58 years old – so we have more than 100 years of experience inside the UTV."
Using their 2016 Dakar success as a basis, Leandro and Lourival built on it to improve their result in the 2017 competition.
"We took advantage of our experience and preparation from previous events . We knew that if we kept the focus, execution and planning we would get a good result. We added to that formula a bit of luck and took more risks than last year.

"We came to the conclusion that if we built on our 2016 experience, we would have chances to be at the top – this happened and we got an unprecedented event for rally history in Brazil. We now want to run the Brazilian Championship and help the sport grow in our country – for now we are enjoying the victory with no plans yet for next year."
Despite finishing the epic race with an advantage of over four hours, at no point were Leandro and Lourival complacent.
"In the Dakar it is very difficult for you to be sure of anything – especially victory. It was only after crossing the finish line did we have any certainty of victory. Anything and everything can happen there. The proof of this was when I had a break in the competition and slid from first place to third – I didn't know and during the day we recovered and then were leading again the next day. You have to believe and have faith in the Dakar." 
Determination is another vital skill for the Dakar – the desire to win and the ability to stay calm under pressure.
"One of the hardest moments for me this year was when I hit a rock and broke a control arm. We spent three hours repairing it and I thought I'd lost all of the advantage that we'd gained. It was the day that I felt the most pressure, but my determination level stayed high."
While being focused on the end goal is extremely important, ensuring you look after yourself and stay hydrated during the race is just as vital.
"After the third of the fourth day, your body begins to get accustomed to the conditions. You can't just forget to drink water – this is fundamental. The Dakar is so difficult that every day you compete, the joy and satisfaction of getting through gives you an extra strength so that you can continue." 
But without a dedicated team and the right machinery, all the physical effort and hardship can mean nothing.
"Racing to victory in the Polaris prepared by Xtremeplus was fantastic. They know how to take a Polaris UTV to the end of the Dakar – the proof of this is the finishing results and I cannot thank Marco and his team enough for all their help, support, encouragement and friendship."
With two Dakar podium finishes and a whole host of additional racing achievements, Leandro wants to encourage future generations to enjoy rallying.
"My main ambition is to leave a legacy for all generations to enjoy rallying. We'd love for the Brazilian Championship to become a great championship because then our children will be able to enjoy the fun of the competition, safely."
For further media information on Polaris ORV products, please contact the Polaris ORV Media Office on +44 (0) 1525 270100 or email us at: press@polaris-orv.media or follow us on Twitter @polarisEMEA_PR 
About Polaris
Polaris Industries Inc. (NYSE: PII) is a global powersports leader with annual 2015 sales of $4.7 billion. Polaris fuels the passion of riders, workers and outdoor enthusiasts with our RANGER®, RZR® and POLARIS GENERAL™ side-by-side off-road vehicles; our SPORTSMAN® and POLARIS ACE® all-terrain off-road vehicles; VICTORY® and INDIAN MOTORCYCLE® midsize and heavyweight motorcycles; SLINGSHOT® moto-roadsters; and Polaris RMK®, INDY®, SWITCHBACK® and RUSH® snowmobiles. Polaris enhances the riding experience with parts, garments and accessories sold under multiple recognizable brands, and has a growing presence in adjacent markets globally with products including military and commercial off-road vehicles, quadricycles, and electric vehicles. www.polaris.com