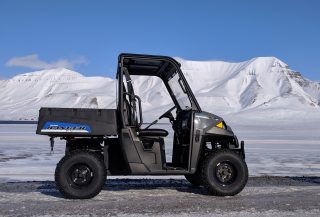 Known for its remote, unforgiving terrain and polar bears, Svalbard is a Norwegian island situated between mainland Norway and the North Pole – it's one of the world's most northernmost inhabited areas and also home to a RANGER EV…
The RANGER EV belongs to Hurtigruten, the biggest travel company in Norway and the largest employer in Svalbard. Owning three hotels on the island, a number of restaurants, a lunch bar, two shops – which sell expedition and safety equipment – and the Polaris dealer, IGP. Hurtigruten Svalbard is also responsible for operating the Culture House.
Kjetil Viklund, General Manager at IGP, said: "We used the RANGER EV a lot for moving things from our storage unit to the shop and vice versa. We also use it as a demonstration unit for our customers. It also is handy when we have special guests to the island who can borrow it as a form on transport."
The features of the RANGER EV lend themselves to making it a useful machine for the company.
"It has a good loading capacity and is perfect for bringing goods from our storage unit to our shop. It's very comfortable for the driver and a passenger and gives us shelter from the weather – with average temperatures between minus 9 and minus 16 degrees Celsius cover is appreciated. It's also very quiet and often it's easier to use the RANGER rather than a car."
With the importance of maintaining the biodiversity of the island at the centre of inhabitants minds, the focus on the environment and limiting humans impact is key.
With stunning scenery, a highly diverse and concentration of wildlife and amazing experiences on offer, Svalbard is quickly cementing its place on the tourism map, but with this is the responsibility of ensuring that the environment remains central to operations.
"For me, electric powered vehicles are the future and an environmental focus is very important – as well all know that fossil fuels will not last forever. In my mind, it will take many many years for the market to completely change, but I'm happy that we've started."
Also offering petrol and diesel engines for the RANGER, Polaris celebrated rolling the one-millionth RANGER machine off the production line in 2017 and 2018 marks two decades since the utility vehicle was introduced to the Polaris line-up. Forming a key part of the Polaris product line, the RANGER® is used all over the globe for a variety of tasks.
For further media information on Polaris ORV products, please contact the Polaris ORV Media Office on +44 (0) 1525 270100 or email us at: press@polaris-orv.media or follow us on Twitter @polarisEMEA_PR
About Polaris
Polaris Industries Inc. (NYSE: PII) is a global powersports leader with annual 2017 sales of $5.4 billion. Polaris fuels the passion of riders, workers and outdoor enthusiasts with our RANGER®, RZR® and POLARIS GENERAL™ side-by-side off-road vehicles; our SPORTSMAN® and POLARIS ACE® all-terrain off-road vehicles; VICTORY® and INDIAN MOTORCYCLE® midsize and heavyweight motorcycles; SLINGSHOT® moto-roadsters; and Polaris RMK®, INDY®, SWITCHBACK® and RUSH® snowmobiles. Polaris enhances the riding experience with parts, garments and accessories sold under multiple recognizable brands, and has a growing presence in adjacent markets globally with products including military and commercial off-road vehicles, quadricycles, and electric vehicles. www.polaris.com