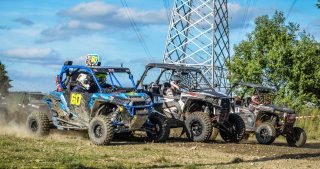 On Saturday 8 and 9 July, Polaris UTV's from throughout the UK and Ireland will be take the trip to Bastogne, Belgium to race against SXS racers from across Europe in the UTV class of the European Quad Trophy event.
It will be third year that the British SXS Racing Championship has joined forces with the BGS Trophy in Belgium to take part in the unique event. Unlike the events in the UK, as well as two races during the day, the race weekend features a 'midnight race' with the start flag being waved at the stroke of midnight so the whole race is run in darkness and all of the UTV's are on track at the same time, with individual 'class' winners being separated post event.
"The fact that there is a night race really excites the racers taking part as it's not something we'd be able to do over here in the UK. It gives them a new challenge and is something completely different." said SXS Racing Operations Manager, Colin Martin, who is busy organising head of the event.
Flying high from a win last year of UK racer Richard Avis, there are over 30 spots available at the July round for racers from the UK and Ireland to take part and entries are being taken now with last year's participants being given first refusal.
"We really enjoy working with the BGS Trophy team and it's fantastic to bring our two championships together. You get different ideas in terms of track styles, race formats and it's also brilliant for the racers as they all push their limits as they're competing against new people. Throwing in a curve ball of different racers, it drives up the whole standard of the sport – which is only ever a positive thing."
BGS Trophy organizer, Gui Taens, said: "We love working with the SXS Racing team and can't wait to host them in Belgium and to visit the UK in September. We keep in touch regularly and speak after every round to update each other and share ideas. It's great to have others to discuss things with and share our passion to run a fun and exciting championship. We've been organising the racing in Belgium now for five years and it has grown fantastically – it's great to look back and see how much it has grown.
"The thing I love most about the racing is that everyone shares the same goals – to have lots of fun, work together as friends and stay safe. BGS Trophy is run by three friends – Brice, myself – Guillaume – and Steve. We all have full time jobs so do this as a passion and an interest because it's something we care about."
On Saturday 23 and Sunday 24 September, SXS Racing will host the 'BGS Trophy Euro Invitational' at Champs Park, Northamptonshire. The event is open to any racer from Europe who wants to take part – all abilities are welcomed.
Held over two days, qualifying and race one will be on the Saturday – as well as the Youth racing series – and race two and three will be held on the Sunday.  Each of the races will be for one hour.
For more information on how to get involved in RZR racing in the UK, visit www.sxsracing.co.uk or in Belgium, visit: www.bgstrophy.com
For images and videos from each of the championships, visit: www.facebook.com/bgstrophy and www.facebook.com/SXSRacing
Ten years ago, Polaris changed the off-road world forever with the launch of the RZR 800. At 50-inches wide, the vehicle was the first trail-capable side-by-side offering a low centre of gravity, unparalleled handling, ground-hugging performance and unmatched acceleration for a true sport experience. Now, the iconic Polaris RZR is the considered the ultimate combination of power, suspension, agility and comfort. Fueled by relentless innovation, the Polaris RZR range has been designed to dominate every type of off-road terrain. From trail and desert riding to duning, rock crawling and mudding – the RZR allows users to do it all.
Photo credit: Catherine Simpson
For further media information on Polaris ORV products, please contact the Polaris ORV Media Office on +44 (0) 1525 270100 or email us at: press@polaris-orv.media or follow us on Twitter @polarisEMEA_PR 
About Polaris
Polaris Industries Inc. (NYSE: PII) is a global powersports leader with annual 2015 sales of $4.7 billion. Polaris fuels the passion of riders, workers and outdoor enthusiasts with our RANGER®, RZR® and POLARIS GENERAL™ side-by-side off-road vehicles; our SPORTSMAN® and POLARIS ACE® all-terrain off-road vehicles; VICTORY® and INDIAN MOTORCYCLE® midsize and heavyweight motorcycles; SLINGSHOT®moto-roadsters; and Polaris RMK®, INDY®, SWITCHBACK® and RUSH® snowmobiles. Polaris enhances the riding experience with parts, garments and accessories sold under multiple recognizable brands, and has a growing presence in adjacent markets globally with products including military and commercial off-road vehicles, quadricycles, and electric vehicles. www.polaris.com