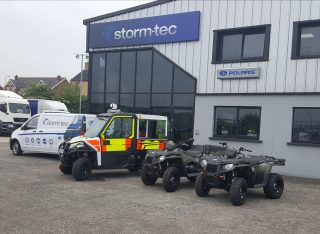 Carlow based Polaris dealer Storm-tec has been appointed exclusive Polaris ORV dealer for the Republic of Ireland. The dealership will be working with and managing a small sub dealer network that looks after all Polaris requirements in the Republic.
Since becoming a Polaris dealer in 2016 Storm-tec has greatly expanded their farming and countryside business and Dealer Principal Conor Gribbon reports high sales of the Polaris Ranger Diesel to the Irish Coast Guard, while the Polaris Sportsman is very much the popular machine with the agricultural community.
The dealership prides itself on selling only top quality equipment and working with world class brands. The Belfast branch has an in-house marine service centre and runs a Managed Service Solution for servicing and storing life jackets, dry suits and other marine wear. The branch has built an exceptional reputation supplying clients in the marine industry, including the Irish Coast Guard who now have forty-five Polaris Ranger Diesel models, Community Rescue Service, the Rivers Agency and Inland Fisheries Ireland.
"We're very pleased to become the exclusive Polaris ORV dealer for the Republic of Ireland," says Conor, "and we're confident in growing our Polaris business in the communities we serve. The Polaris range is extensive and ideally suited to the demands of our customers, our weather and the varying terrains that are a daily challenge, especially for the Irish Coast Guard and the Community Rescue Service. There is high praise for the ruggedness and dependability of the Polaris ORV vehicles." Conor continued: "we were exceptionally pleased to be at this year's Farm, Tractor and Machniery Trade Association (FTMTA) show last month with our newest sub dealer, Paddy Conroy. Together, we're confident we've got the best competitive offering, solutions and after care services to match all needs throughout the island of Ireland."

Polaris National Sales Manager, Ben Murray, says: "We have seen exceptional growth of our ORV business through Storm-tec in the Republic and equally have every confidence in their continued success as our exclusive dealer."
Polaris Britain: 0800 915 6720 www.polarisbritain.com Storm-tec 00353 1  9039822
-END-
12th June 2018
For more press information and images please contact: Tony Hawkins
Tony Hawkins & Associates 01844 279863 Mob: 0797 9598 999