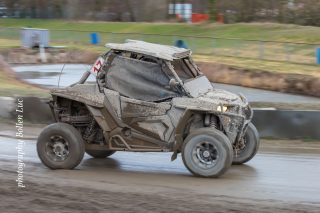 For the second round of the SSV European Trophy championship, 18 drivers from England, France, the Netherlands and Belgium decided to meet in the Netherlands at the Eurocircuit Valkenswaard.
A genuine rallycross circuit composed of 60% asphalt and 40% dirt. For this event there's 40 minutes of qualifying involved, and then 5 rounds of 15 minutes including the 5 mandatory joker laps. An additional dimension to the race management of the competitors was the arrival of capricious weather, which made the entire circuit slippery, thus offering an exceptional spectacle for the visitors.
To ensure maximum safety on the track, the drivers took part in the race in two separate groups. At the end of the first round Pascal Goix, riding his Polaris RZR Turbo, pulled some wonderful moves ending up in top 3. The second run was launched under particularly difficult weather conditions. Pascal Goix had a good race, ending op second on stage in the category 'Origen Turbo'.
The drivers of the SSV European Trophy will meet for the third round of the championship on May 5th at Fouron.