Files
SÉBASTIEN LOEB RACING ET POLARIS S'UNISSENT POUR UN PROGRAMME RALLYE-RAID DE 5 ANS
SÉBASTIEN LOEB RACING Y POLARIS UNEN FUERZAS PARA UN PROGRAMA DE RALLY-RAID DE 5 AÑOS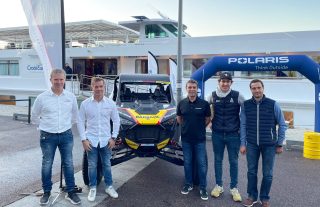 With the aim of playing the leading role in the SSV T4 category, this association will begin during the fourth edition of the Dakar in Saudi Arabia, the first round of the 2023 FIA and FIM World Rally-Raid Championship, which will be held from 31 December 2022 to 15 January 2023.
A COMBINATION OF EXPERTISE AND RENOWN
Polaris Off-Road Vehicles and the team of nine-time WRC world rally champion, Sébastien Loeb, are pleased to announce this new collaboration at the heart of a discipline imbued with passion and sporting adventure.
Rally raid is one of Sébastien Loeb's major disciplines but was also a challenge taken up by team co-founder Dominique Heintz on a motorcycle in 1986. The decision to work on a project with ambitious objectives has been in the pipeline for many years already, and it is with Polaris that the Alsacian team has chosen to commit to this new challenge over the next five years.
For more than ten years, Sébastien Loeb Racing (SLR) has relied on a balance of experienced and young drivers to share its expertise and enhance performance. Beyond this, the team understands that rally raid allows for a great complementarity between car and motorcycle pilots. Both linked to the world of motorcycling, Sébastien Loeb and Dominique Heintz strive to offer a competitive structure to motorcyclists who want to join a four-wheel rally-raid program. The SSV T4 category has proven to be the most appropriate, allowing the teams to re-train and refine their skills while extending their passion for the field, and therefore it is logical that the SLR team turned to an expert player in the sector, Polaris – six-times winner of the SSV category at the Dakar – to build this offer.
By signing a five-year partnership with Polaris Off Road Vehicles, the motorsport team is preparing on the basis of the all-new Polaris RZR Pro R Sport vehicles, with the aim of achieving the leading positions in its category in the famous Dakar Rally. and the FIA ​​W2RC rankings.
Sébastien Loeb – Founder of the Sébastien Loeb Racing team:

"SLR at the Dakar is a new adventure! The Dakar is my current discipline that I have discovered over time and that I have learned to appreciate in recent years. I think it's a great challenge to take up. It is a difficult, long endurance race which highlights the collaboration between a team, its pilots, and its supporters. It's great that we can engage in this discipline with SLR.

"Dominique started out in Dakar as a motorcycle rider, and it was important to him to return to this program one day. The opportunity to work with a manufacturer like Polaris is particularly motivating for us. Exploiting the vehicles of Polaris is a great opportunity for our team. We will try to do great things together so why not win the category in the future! "
POLARIS RZR: A POWERFUL AND RELIABLE VEHICLE
The development of the Polaris RZR has been a success story of increasing power and dynamic capabilities since 2008 when Polaris created this new concept of sports SSV which experienced exceptional enthusiasm in the following years. Now, for 2022, Polaris has launched the most powerful and advanced RZR yet: the RZR Pro R.
Setting a new standard for the performance SSV class, the Pro R boasts a host of innovations and the most powerful engine ever offered in a stock side-by-side; a 225-horsepower naturally aspirated 2.0L ProStar Fury four-cylinder mated to a larger clutch and belt, delivering power to the ground with instant response for quick acceleration. What's more, the ProStar Fury harnesses its immense power thanks to a higher level of overall sophistication, delivering usable power throughout the entire powerband for optimal performance at any stage.
For this first Dakar, the objective will be to take as many benchmarks and experiences with the machine as possible in order to be in the best position at the finish of this next edition and allow a rise in dominance until 2027.
"Sébastien Loeb is one of motorsport's greatest of all time," said René Basei, Vice President of Polaris Europe, Middle East, Africa and Asia-Pacific. "There is no doubt that his expertise, experience and guidance will contribute to the success of this new project and propel our off-road racing program forward, together with the incredible talent and determination of the drivers, engineers and highly competent members of the Sébastien Loeb Racing team."
XAVIER DE SOULTRAIT: THE YEAR OF CONVERSION WITH SÉBASTIEN LOEB RACING
Xavier De Soultrait, a motorcycle rider specialising in rally raids after eight participations in the Dakar Rally on two wheels, will take to the start of the next edition on four wheels under the colours of the Sébastien Loeb Racing team and Polaris.
Already a Baja world champion and established enduro rider, Xavier knows the terrain of the rally raid particularly well and had the ambition to change category in order to discover new sensations at the wheel of a side-by-side. After sustained development and preparation in recent months, he will drive the French team's RZR Pro R for his first participation in the SSV category.
"After carrying out side-by-side co-driver tests with Sébastien Loeb, we're making progress on my switch to this category. The requirement as a motorcycle or SSV rider is very high, and I hope that this next cycle will be as long as my first on two wheels. I will put in all the intensity and effort that's needed to succeed in this new challenge. The Dakar Rally is about adventure and human encounters, and I think that the story with Sébastien Loeb Racing can become virtuous. Of course, the presence of Sébastien Loeb as our team boss will be precious because his experience and knowledge of the discipline will be necessary to help us progress faster. My desire to play the leading role, as I have tried to do in recent editions on two wheels, is intact – I'm sure it's going to be another fun adventure and I can't wait to start!"
2027 HORIZON: A COMMITTED AND COMPETITIVE TEAM IN THE SSV T4 CATEGORY
Sébastien Loeb Racing and Polaris are committed for the long term in order to be able to grow together and eventually offer a team of professional and gentleman drivers made up of around ten vehicles.
In the spirit of sharing that has always reigned at the heart of this esteemed competition, the two entities hope to register as a recognised and competitive player in rally-raids over the next five years.
Dominique Heintz – Team Manager Sébastien Loeb Racing:

"An initial period of ten years has just ended during which we have experienced a lot of things that had a great impact on the whole team. We are entering a new decade and want to mark the occasion with new projects. The future of the Sébastien Loeb Racing team will be rally-raids. The Dakar is a monument and will remain so for a long time. The human factor makes this discipline a very unique competition.

"We will not take this new challenge lightly because it is necessary to master a number of subjects in this discipline and there is no place for chance. Humility has always been our way of working with Sébastien so we will keep a cool head to offer a competitive structure. We are exceptionally lucky to have Seb by our side on a program he knows well.

"This new adventure with Polaris is the logical continuation of our desire to work with prestigious manufacturers since the creation of the team. I am convinced that our collaboration will bring great things and we have already started working to be ready in early 2023. It's an extremely difficult event, all scenarios must be considered and we are working on this with the Polaris teams.

 "For me, the Dakar started 30 years ago and it's an event that has guided my whole life, so it's with great emotion that I want to take up this next challenge with my team."
Follow the team's progress on Facebook and Instagram – @loebracing – or on their website: https://sebastienloebracing.com
For more information on the Polaris RZR Pro R, please contact the Polaris ORV Media Office at press@polaris-orv.media
ABOUT POLARIS
As the global leader in powersports, Polaris Inc. (NYSE: PII) pioneers product breakthroughs and enriching experiences and services that have invited people to discover the joy of being outdoors since our founding in 1954. Polaris' high-quality product line-up includes the Polaris RANGER®, RZR® and Polaris GENERAL™ side-by-side off-road vehicles; Sportsman® all-terrain off-road vehicles; military and commercial off-road vehicles; snowmobiles; Indian Motorcycle® mid-size and heavyweight motorcycles; Slingshot® moto-roadsters; Aixam quadricycles; Goupil electric vehicles; and pontoon and deck boats, including industry-leading Bennington pontoons. Polaris enhances the riding experience with a robust portfolio of parts, garments, and accessories. Proudly headquartered in Minnesota, Polaris serves more than 100 countries across the globe.