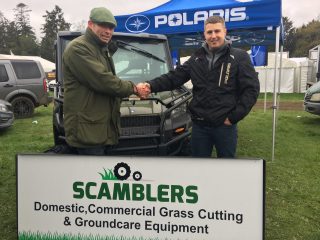 AJ & R Scambler & Sons Ltd, better known as Scamblers, have been appointed authorised Polaris dealers. Established in 1974 and based in spacious rural premises in the village of Bourn, between Cambridge and St Neots, Scamblers are now regarded as a market leader in turfcare and grounds maintenance machinery. The dealership specialises in supplying compact tractors, utility vehicles, bank tractors, mowers and turfcare and groundcare machinery for every aspect of turf and grounds maintenance.
"We're very pleased to have such a highly regarded dealer join the Polaris dealer network," says Ben Murray, Polaris UK and Ireland National Sales Manager, "and we're looking forward to working together to meet the demands of Polaris customers in the area."
Scamblers cover Cambridge, Norfolk and Suffolk and whilst their main market had traditionally been groundcare and horticulture they have expanded to meet the needs of agricultural businesses, gamekeeping and golf courses in their area.
"It was after setting up demonstrations with Polaris to existing customers we reached the agreement to become authorised Polaris dealers," says Scamblers' Director, Ed Scambler. "The customers said how much they liked the Polaris Rangers and were impressed by what they saw as superior quality in the ATVs and UTVs. We're very much looking forward to selling the product."
Scamblers enjoy a fine reputation for looking after customers' requirements and with the Polaris range can look forward to meeting those needs with the latest models backed by well-equipped workshop and service facilities. The Scamblers' team boasts over 100 years' experience in the industry, and say they guarantee a prompt, efficient and friendly service. Polaris welcomes them as part of the rapidly spreading Polaris dealer network.
-END-
5th June 2018
For more press information and images please contact: Tony Hawkins
Tony Hawkins & Associates 01844 279863 Mob: 0797 9598 999