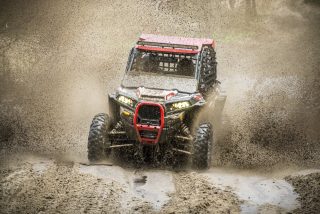 As the iconic RZR celebrates its 10th birthday this year, we take a look at the racers who have taken it to victory throughout Europe, Middle East and Africa. Next up in our series is 21-year-old Denis Retat from Poland racing the RZR XP 1000 in the Super Rally in Poland.
It was double success for brothers Denis and Nicolas Retat, who were both top of their class, racing to victory in their Polaris RZR vehicles at the Gepa Logistics Super Rally in Lisie Gora, Poland in September.
Competing in the SSV class in a Polaris RZR XP 1000, Denis Retat drove to victory with his co-pilot Mariusz Budzisz. His older brother, 25-year-old, Nicolas Retat did the same in the SSV Turbo class with his co-driver, Daniel Krzyszpin in the RZR XP Turbo.
"I only started driving a few months ago, but have been racing for three years – I started off as a co-pilot of my brother Nicolas. It's the best way to gain experience and learn about racing and what is required to be a successful competitor.", said Denis
As expected, sibling-rivalry is present between the brothers but serves to push both racers on to achieve all they can.
"At the moment we don't participate in the same category so aren't racing directly against each other, however of course the rivalry is there – albeit positive. Our dad rides too so we're all competitive with each other. The competition between the three of us just means that if they are in first place, it just pushes me to do the same or try and do better.
"Part of the reason I decided to start riding by myself with my own co-driver was because in my opinion my brother is less talented than me. Now we are both doing the same role within the car, then we can compare our results a little bit more and be even more competitive and joking with each other.
"If there is one of us who has had the most success in racing, it's our dad!"
Both brothers work for Polaris in Poland – so are perfectly placed to mix their business life with their interests outside of work.
"We've always both had a need for adrenaline and loved racing. Now that we both work as the main distributor in Poland, we have a chance to connect our passions with our work – which we are extremely lucky to be able to do.
"The Polaris RZR is an extremely capable machine and in my opinion is the best choice for racing – sand, mud, rocks – it has it all and can deal with whatever trials it is faced with. It is a universal machine and excels in all types of competition, whether that it speed or the slower speed technique."
"A big thanks to my dad and brother for giving me this chance and seeing potential in me. A thanks too to Polaris ORV EMEA for their great work and help they give me."
Ten years ago, Polaris changed the off-road world forever with the launch of the RZR 800. At 50-inches wide, the vehicle was the first trail-capable side-by-side offering a low center of gravity, unparalleled handling, ground-hugging performance and unmatched acceleration for a true sport experience. Now, the iconic Polaris RZR is the considered the ultimate combination of power, suspension, agility and comfort. Fueled by relentless innovation, the Polaris RZR range has been designed to dominate every type of off-road terrain. From trail and desert riding to duning, rock crawling and mudding – the RZR allows users to do it all.
For further media information on Polaris ORV products, please contact the Polaris ORV Media Office on +44 (0) 1525 270100 or email us at: press@polaris-orv.media or follow us on Twitter @polarisEMEA_PR
About Polaris
Polaris Industries Inc. (NYSE: PII) is a global powersports leader with annual 2015 sales of $4.7 billion. Polaris fuels the passion of riders, workers and outdoor enthusiasts with our RANGER®, RZR® and POLARIS GENERAL™ side-by-side off-road vehicles; our SPORTSMAN® and POLARIS ACE® all-terrain off-road vehicles; VICTORY® and INDIAN MOTORCYCLE® midsize and heavyweight motorcycles; SLINGSHOT® moto-roadsters; and Polaris RMK®, INDY®, SWITCHBACK® and RUSH® snowmobiles. Polaris enhances the riding experience with parts, garments and accessories sold under multiple recognizable brands, and has a growing presence in adjacent markets globally with products including military and commercial off-road vehicles, quadricycles, and electric vehicles. www.polaris.com