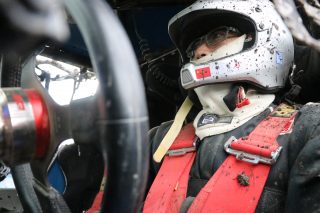 As the iconic RZR celebrates its 10th birthday this year, we take a look at the racers who have raced the machine around the world. Next up in our series is Lei Li from China racing the RZR XP 1000.
Racing UTVs for two years, Lei Li has been racing a Polaris RZR from the very beginning and competed in the 12th T-rally earlier this year.
"The RZR is so stable and predictable. Polaris has a strong heritage and a high level of expertise so it makes me trust the RZR implicitly. When you're racing, you push to the limit so you need to have a vehicle that you completely trust. It has everything I need – the performance, power and agility."  
As is the case with many racers, racing is not just a hobby but a way of life.
"I'm the CEO for a tourism company here in China, but aside from my work, I spend all my spare time training for UTV racing. It's my passion and I love the sport so I enjoy everything associated with it and working to improve my performance. It's such an exciting sport, I enjoy the feeling of the competition, pressure, and the feeling of pushing myself and my vehicle to the extremes."
For Lei Li, it's not just the physical pressure, but the mental challenge of completing the 3000km of complicated and demanding road conditions too.
"The biggest challenge for me is from my mind. The feeling of stopping myself from quitting and continuing with the race is a battle. The race makes me a stronger man and tests my spirit. The distance of the race is very long so it's maintaining motivation throughout it – and when you get to the end it is a big sense of achievement and relief."
Lei Li usually takes part in seven big races in China each year and aims to win his first nationwide race soon. Already looking to the future, he has started preparation for the 2018 T-Rally event and his Polaris RZR XP 1000 is being worked on in his garage.
Ten years ago, Polaris changed the off-road world forever with the launch of the RZR 800. At 50-inches wide, the vehicle was the first trail-capable side-by-side offering a low center of gravity, unparalleled handling, ground-hugging performance and unmatched acceleration for a true sport experience. Now, the iconic Polaris RZR is the considered the ultimate combination of power, suspension, agility and comfort. Fueled by relentless innovation, the Polaris RZR range has been designed to dominate every type of off-road terrain. From trail and desert riding to duning, rock crawling and mudding – the RZR allows users to do it all.
For further media information on Polaris ORV products, please contact the Polaris ORV Media Office on +44 (0) 1525 270100 or email us at: press@polaris-orv.media or follow us on Twitter @polarisEMEA_PR
About Polaris
Polaris Industries Inc. (NYSE: PII) is a global powersports leader with annual 2015 sales of $4.7 billion. Polaris fuels the passion of riders, workers and outdoor enthusiasts with our RANGER®, RZR® and POLARIS GENERAL™ side-by-side off-road vehicles; our SPORTSMAN® and POLARIS ACE® all-terrain off-road vehicles; VICTORY® and INDIAN MOTORCYCLE® midsize and heavyweight motorcycles; SLINGSHOT® moto-roadsters; and Polaris RMK®, INDY®, SWITCHBACK® and RUSH® snowmobiles. Polaris enhances the riding experience with parts, garments and accessories sold under multiple recognizable brands, and has a growing presence in adjacent markets globally with products including military and commercial off-road vehicles, quadricycles, and electric vehicles. www.polaris.com