Files
RZR Racing: Britische Side-by-Side Champions in der 1000 Kubik Klasse, Mark McCann und Jayne Ind

Login to Download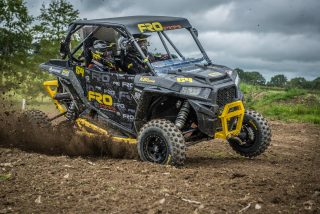 As the iconic RZR celebrates its 10th birthday this year, we take a look at the racers who have taken it to victory throughout Europe, Middle East and Africa. Next up in our series are British SXS 1000cc Champions, Mark McCann and Jayne Ind from the United Kingdom.
British Champion duo, Mark and Jayne have been racing Polaris machinery for four years and wouldn't choose anything else…
"For us, the best thing about Polaris is reliability. To win a championship, lots of elements have to come together and knowing that you're using a machine that's reliable and you trust takes one of these worries away – allowing you to concentrate on other things. Consistency is important for us in this sport, along with good availability to back up parts, which we get with Polaris.
"The British SXS Championship has opened up to other manufacturers this season but we can't imagine using anything else. We have tried other makes, but we couldn't gel or do the same sort of times that we do in our RZR." said Jayne.
As well as the reliability, it's the performance of the direct drive Polaris ProStar engine of the RZR which helps make it the racer of choice for Jayne and Mark.
"The direct drive engine is great thanks to its flexible spread of power and torque; we can concentrate on our lines and speed without multiple gear changes for example. Like most racers, we've worked on our set-up to improve our times. The ProStar engine is a great base to start from, with instant throttle response and punchy power, while the chassis out of the crate is super impressive and easy to set-up.
"Our sponsors make life a lot easier for us too – Polaris, Alpinestars, Airshelta, Fro Systems, Simark Eng, Eibach, Power Maxed, Tire Balls, 100%, Cobra and Teng Tools."
For Mark and Jayne, racing is a way of life. If they're not at a race, they will be in the garage working on the machine or talking tactics.
"When we're not at a race, racing is still a huge part of our lives. We know that preparation is key and working on the RZR in the garage in-between rounds gives us the best opportunity of winning, but from that comes the success which we can enjoy together. We are always trying to think of ideas to try and improve our racing – it's a sport we share and we love it."
The Side by Side element of the RZR racing is one of the factors that both Mark and Jayne enjoy the most.
 "Sharing the excitement of racing together is great. Mark has raced Motocross all his life and when he used to talk about the racing on the way home, it was hard to imagine for someone who had been stood watching. However, with the SXS racing we both have an input and can experience the same as each other in real time."
Experiencing the ups and downs together, how do they celebrate a successful weekend of racing? Treating themselves to some nice food of course…
"It's usually a Nando's or a carvery dinner on the way home. It's the food of champions!"
After securing the British SXS title in 2016, this year Mark and Jayne are racing in both the enduro and short circuit SXS Racing championships, but have their eyes on a title further afield too.
"The short circuit is our favourite as we enjoy the excitement of wheel to wheel action. We were lucky enough to win both championships last year, but we missed out on the European title. It was hard as we were fast enough on the day but someone crashed in front of us and there was no way we could have missed him. Our luck didn't come with us overseas, but it's on for 2017 – we're aiming for the European title."
Ten years ago, Polaris changed the off-road world forever with the launch of the RZR 800. At 50-inches wide, the vehicle was the first trail-capable side-by-side offering a low center of gravity, unparalleled handling, ground-hugging performance and unmatched acceleration for a true sport experience. Now, the iconic Polaris RZR is the considered the ultimate combination of power, suspension, agility and comfort. Fueled by relentless innovation, the Polaris RZR range has been designed to dominate every type of off-road terrain. From trail and desert riding to duning, rock crawling and mudding – the RZR allows users to do it all.
For further media information on Polaris ORV products, please contact the Polaris ORV Media Office on +44 (0) 1525 270100 or email us at: press@polaris-orv.media or follow us on Twitter @polarisEMEA_PR
Photo credit: Catherine Simpson
 About Polaris
Polaris Industries Inc. (NYSE: PII) is a global powersports leader with annual 2015 sales of $4.7 billion. Polaris fuels the passion of riders, workers and outdoor enthusiasts with our RANGER®, RZR® and POLARIS GENERAL™ side-by-side off-road vehicles; our SPORTSMAN® and POLARIS ACE® all-terrain off-road vehicles; VICTORY® and INDIAN MOTORCYCLE® midsize and heavyweight motorcycles; SLINGSHOT®moto-roadsters; and Polaris RMK®, INDY®, SWITCHBACK® and RUSH® snowmobiles. Polaris enhances the riding experience with parts, garments and accessories sold under multiple recognizable brands, and has a growing presence in adjacent markets globally with products including military and commercial off-road vehicles, quadricycles, and electric vehicles. www.polaris.com