Files
#RZRRacer : Patrice Garrouste, pilote Polaris le mieux classé au Rallye Dakar 2018

Login to Download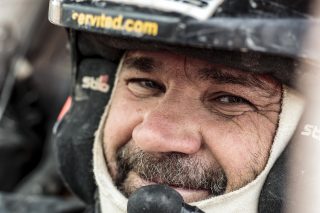 The 40th edition of the world-respected Dakar Rally took place in January in Peru – with three Polaris RZRs finishing the iconic event, Polaris is the most successful manufacturer in this year's Dakar Rally in the SXS category.
Top placed Polaris racers were Patrice Garrouste from France and his co-driver Steven Grenier from Switzerland, who finished in second place overall in their Xtreme Plus specially prepared Polaris RZR XP Turbo.
Just 57m37s behind first place, the duo were winners of five stages in total: stage four, six, 10, 11 and 13. They finished the iconic rally with a total time of 73 hours, 41m43s – a result that Patrice puts down to a full team effort:
"The race was very difficult – without a good working team, co-driver and mechanics, it would have been impossible to pass through all the tough conditions that we encountered."
Previously having raced a DAF truck in the Dakar, it wasn't the first time that Patrice had taken part in the iconic event.
"I know the Xtreme Plus team very well because I have raced in a few of the World Cup events with them and had good results in SSV. The goal was to reach the end of the and try to take the win for the team for the seventh time.

"All the experience I have gathered throughout my racing career is good to prepare me for the event – I completed the Dakar two years and have raced many Rally Raid events – but unfortunately it is not enough to consider myself as a professional driver. I tried to prepare for the event by swimming as physical training and driving in Morocco too."
The Dakar Rally marked a series of 'firsts' for the 51-year-old Frenchman.
"It was the first time that I competed with Steven as a co-driver and also the first time I had raced with the Turbo. I knew Steven well though as we did a lot of tests in Morocco together. I learnt a lot from him as he has already raced in six Dakar Rallies and works full time with Xtreme Plus. I know the Polaris machinery and knew that the RZR Turbo was a great choice to compete in."
His favourite moment of the Dakar?
"The happiness that you bring to all the team when you win a stage. These moments were my favourite. I was very happy to be on the podium but, of course, I would have preferred to win. To celebrate, we had a big party with all the mechanics and Xtreme Plus team."
For further media information on Polaris ORV products, please contact the Polaris ORV Media Office on +44 (0) 1525 270100 or email us at: press@polaris-orv.media or follow us on Twitter @polarisEMEA_PR
About Polaris
Polaris Industries Inc. (NYSE: PII) is a global powersports leader with annual 2017 sales of $5.4 billion. Polaris fuels the passion of riders, workers and outdoor enthusiasts with our RANGER®, RZR® and POLARIS GENERAL™ side-by-side off-road vehicles; our SPORTSMAN® and POLARIS ACE® all-terrain off-road vehicles; VICTORY® and INDIAN MOTORCYCLE® midsize and heavyweight motorcycles; SLINGSHOT® moto-roadsters; and Polaris RMK®, INDY®, SWITCHBACK® and RUSH® snowmobiles. Polaris enhances the riding experience with parts, garments and accessories sold under multiple recognizable brands, and has a growing presence in adjacent markets globally with products including military and commercial off-road vehicles, quadricycles, and electric vehicles. www.polaris.com