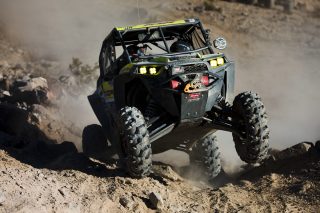 Clean Sweep podium for Polaris
Father and son on the podium
Huge rate of attrition – only 10% entrants finished
It was a clean sweep for Polaris Factory Racing in the legendary King of the Hammers UTV race in Johnson Valley, California earlier this month, with Polaris RZR racers filling all three podium positions in the brutal desert-and-rock race.
With two of the top three finishers from the same family, Mitch Guthrie Jr. finally triumphed over his own father to be crowned champion, while Mitch Guthrie Sr. finished in third and fellow-RZR racer Branden Sims finished in second place
Despite having won multiple marquee races in his young career, including the Mint 400, UTV World Championships and Baja 1000, the coveted King of the Hammers title had eluded Mitch Guthrie Jr. until now. With his incredible victory at this year's King of the Hammers event, it appears that a changing of the guard is in order from father to son as his father – Mitch Guthrie Sr. – is a six-time King of the Hammers UTV Champion and UTV racing legend.
King of the Hammers is an off-road race that combines desert racing and rock crawling. The annual event is held in February on Means Dry Lake at Johnson Valley, California in the United States. This year, only 12 of the 118 entries competing finished laps of the 134-mile desert articulation within the allotted eight hours.
From an early age, Mitch Guthrie Jr. has pursued his father's pedigree of racing success and excellence.
"My dad has been a huge role model for me my entire life – I grew up watching him race. Having him as someone to teach me everything he knows is huge and for the past 10 years I've been learning from him. I've won a lot of races in my life but up until now King of the Hammers was one that I hadn't won just by myself. Riding with him in King of the Hammers when I was younger was one of the biggest parts of the knowledge that I have now."
Racing is a way of life for the Guthrie family – if not competing, then the father and son duo are in the garage preparing their machines and sharing advice and experience.
"Racing the RZR has been huge for our father-son relationship – we have a passion for it. Even being in the garage everyday elaborating on things and working on the cars and getting ready for the race – we have a ton of fun getting ready for the racers."
Speaking before the race, Mitch Guthrie Jr. had expressed his commitment to get the win but was also keen to point out that the Guthrie family was a team.
"I want to be the 'King' but at the same time, I want my dad to win. It's a family thing and we're a team – the Guthrie Racing Team."
Before racing in a vehicle of his own, Mitch Guthrie Jr. learnt his craft being co-driver with his father – even taking part in the King of the Hammers race. Mitch Guthrie Sr. said: "Having Mitch in the car with me when I was racing King of the Hammers was the best racing I've ever done in my life. It was great having him there. He was great – young, strong and fast. We went up and we practiced, we made sure we had our stuff together and we won. Having your kid with you and winning, it just doesn't get any better."
Speaking after taking the King of the Hammers crown, Mitch Guthrie Jr. said:
"It's been a long road getting here with countless hours spent practicing and even participating in this race with my dad a few times. To finally not just be in the race, but to walk away a champion is a huge honor for me and an experience that I will cherish for the rest of my life."

"My dad is my biggest inspiration and my toughest competition. We had a good plan coming in to run a smooth course, and the Polaris RZR was awesome and allowed us to come out on top."
Up next for newly-crowned Mitch Guthrie Jr. is the 2018 Mint 400, where he hopes to take the back-to-back win. The 2018 event, held in Las Vegas, takes place between March 7-11. This year will mark the 50th anniversary of the event.
The iconic Polaris RZR is the considered the ultimate combination of power, suspension, agility and comfort. Fueled by relentless innovation, the Polaris RZR range has been designed to dominate every type of off-road terrain. From trail and desert riding to duning, rock crawling and mudding – the RZR allows users to do it all.
For further media information on Polaris ORV products, please contact the Polaris ORV Media Office on +44 (0) 1525 270100 or email us at: press@polaris-orv.media or follow us on Twitter @polarisEMEA_PR
Image credits: UTV Underground

About Polaris
Polaris Industries Inc. (NYSE: PII) is a global powersports leader with annual 2017 sales of $5.4 billion. Polaris fuels the passion of riders, workers and outdoor enthusiasts with our RANGER®, RZR® and POLARIS GENERAL™ side-by-side off-road vehicles; our SPORTSMAN® and POLARIS ACE® all-terrain off-road vehicles; VICTORY® and INDIAN MOTORCYCLE® midsize and heavyweight motorcycles; SLINGSHOT® moto-roadsters; and Polaris RMK®, INDY®, SWITCHBACK® and RUSH® snowmobiles. Polaris enhances the riding experience with parts, garments and accessories sold under multiple recognizable brands, and has a growing presence in adjacent markets globally with products including military and commercial off-road vehicles, quadricycles, and electric vehicles. www.polaris.com