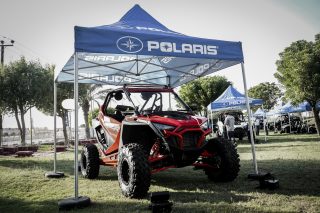 Polaris, represented by its distributor in the United Arab Emirates, SSE (Specialized Sports Equipment), recently invited its customers to celebrate the launch of the new RZR Pro XP at an exclusive event held in the United Arab Emirates last Friday.
Hosted at Golden Desert in Al Badayer, a key location for off-roaders and surrounded by endless sand dunes, the RZR Pro XPerience day presented Polaris customers with the opportunity to experience the brand-new RZR Pro XP announced for 2020. With a designated demo track to utilise the sandy backdrop of the Arabian desert, those who signed up for a test drive could take out either the RZR Pro XP or the RS1 for an adrenaline-charged ride.
SSE also arranged for customers to be able to explore the breath of the Polaris Off-Road lineup with a host of the latest models on display from the RZR, Ranger and Youth lines, including the brand-new RZR Pro XP4 that was announced in October – the first to arrive in the United Arab Emirates.
"We were really happy to offer this event to our customers – the RZR is a very big part of our off-road market in the U.A.E. so the launch of the new RZR Pro XP is very exciting," said Karim Kassoul, General Manager of Specialized Sports Equipment (SSE). "This is a whole new generation of RZR, and we want to bring that new experience to our customers. It's not just a facelift or a performance upgrade; it's a whole new package. We had a lot of test drives throughout the day and all of them finished with positive feedback and a smile, which is great to see."
Offering fun for all the family, there was specially designed track for children to enjoy the Polaris Off-Road youth range in a safe environment, as well as a buffet of local cuisine and drink to enjoy throughout the day, courtesy of SSE.
Pushing the industry to a whole new level with the first of a new generation of extreme performance, the new RZR Pro XP boasts professional-level performance, revolutionary design and brute strength, making it the ultimate off-road vehicles for tearing up the dunes. Packing 181 horsepower, 50.8cm and 55.8cm of usable travel, a brand new 243.8cm wheelbase with eight-times stronger axles and three-times stronger drive system, plus unmatched DYNAMIX 2.0 technology, the new RZR Pro XP is ready to take on any challenge.
For further media information on Polaris ORV products, please contact the Polaris ORV Media Office on +44 (0) 1525 270100 or email us at: press@polaris-orv.media or follow us on Twitter @polarisEMEA_PR
About Polaris
Polaris Industries Inc. (NYSE: PII) is a global powersports leader with annual 2017 sales of $5.4 billion. Polaris fuels the passion of riders, workers and outdoor enthusiasts with our RANGER®, RZR® and POLARIS GENERAL™ side-by-side off-road vehicles; our SPORTSMAN® and POLARIS ACE® all-terrain off-road vehicles; INDIAN MOTORCYCLE® midsize and heavyweight motorcycles; SLINGSHOT® moto-roadsters; and Polaris RMK®, INDY®, SWITCHBACK® and RUSH® snowmobiles. Polaris enhances the riding experience with parts, garments and accessories sold under multiple recognizable brands, and has a growing presence in adjacent markets globally with products including military and commercial off-road vehicles, quadricycles, and electric vehicles. www.polaris.com