Files
Ranger Stories: Serving one of the world's most prestigious shooting grounds - E.J. Churchill
RANGER Stories: Die Allzweckwaffe im Einsatz für die renommierte Gewehrmanufaktur E.J. Churchill
Ranger Stories : Au service de l'un des champs de tir les plus prestigieux au monde - E.J. Churchill
Historias del Ranger: Sirviendo a uno de los campos de tiro más prestigiosos del mundo - E.J. Churchill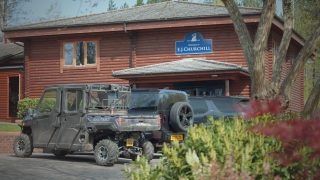 Hardest working. Smoothest riding. The Polaris Ranger is one of the bestselling utility side-by-sides across the globe, and has earned its reputation as the ultimate utility vehicle with over one million vehicles built and counting. To showcase the versatility of the Ranger, Polaris has embarked on a journey across Europe, Middle East and Africa to discover and film how customers are using the Polaris Ranger in their day-to-day lives. The initiative, called Ranger Stories, is set to demonstrate the many ways in which the RANGER line-up is servicing customer lives worldwide.
Episode 9 – E.J. Churchill Shooting Ground, West Wycombe Estate, UK
Built upon a century of heritage and excellence, E.J. Churchill is one of the finest gunmakers in the world. Today, E.J. Churchill is the largest British-owned gunmaker renowned for its bespoke guns that combine technical innovation with the reliability, quality and elegance of traditional craftsmanship. 
The award-winning E.J. Churchills Shooting Ground is known as the most prestigious clay pigeon shooting ground in England, and the largest, spanning over 35-acres. Located just outside of London, E.J. Churchill is based on the wider West Wycombe Estate; a 5,000-acre estate that is home to the Dashwood family and has been since 1698. Catering for all client sporting needs, from the Young Guns Academy to in-field instruction and lessons, E.J. Churchill needed a fleet of versatile vehicles that could be used across the grounds to facilitate the general day-to-day management and keep everything running smoothly.
Over ten years ago, a good friend of Rob Fenwick, Managing Director of E.J. Churchill Group Ltd, recommended the Polaris Ranger and sent a unit to the grounds to be tested. That vehicle was purchased one week later, and from there grew the partnership between Polaris and E.J. Churchill, who have now had a number of Polaris Rangers in operation including the Ranger XP 1000 and Crew models, Ranger Diesel and more recently, the Ranger EV.
Rob Fenwick said, "It's a partnership that's grown organically and, since the day we bought our very first Polaris Ranger, we've exclusively run and bought Polaris machines ever since. Even better than this, we have recommended Polaris to hundreds of other clients, all of which I know are delighted with their choice."
For E.J. Churchill, it comes down to reliability. Not only do they need a vehicle that can serve the groundskeeper day in, day out, to service, move and stock the circa 300 promatic traps laid out across the grounds, but also for escorting VIP guests around in the Ranger Crew model, and event support. Hosting the World Championships for the sixth time this year, E.J. Churchill needs to be certain their machinery isn't going to let them down. 
"Who knows what the future holds," Rob continued. "But one thing is for sure, wherever we go, the Polaris Ranger is coming with us."
Catch the ninth episode of RANGER Stories in the UK on the Polaris Off-Road International YouTube channel here.
FOR FURTHER MEDIA INFORMATION ON POLARIS ORV PRODUCTS, PLEASE CONTACT THE POLARIS ORV MEDIA OFFICE ON +44 (0) 1525 270100 OR EMAIL US AT PRESS@POLARIS-ORV.MEDIA.
About Polaris
As the global leader in powersports, Polaris Inc. (NYSE: PII) pioneers product breakthroughs and enriching experiences and services that have invited people to discover the joy of being outdoors since our founding in 1954. With annual 2019 sales of $6.8 billion, Polaris' high-quality product line-up includes the Polaris RANGER, RZR and GENERAL side-by-side off-road vehicles; Sportsman all-terrain off-road vehicles; Indian Motorcycle mid-size and heavyweight motorcycles; Slingshot moto-roadsters; snowmobiles; and deck, cruiser and pontoon boats, including industry-leading Bennington pontoons. Polaris enhances the riding experience with parts, garments and accessories, along with a growing aftermarket portfolio, including TransAmerica Auto Parts. Polaris' presence in adjacent markets includes military and commercial off-road vehicles, quadricycles, and electric vehicles. Proudly headquartered in Minnesota, Polaris serves more than 100 countries across the globe.