Files
Anecdotes sur le Ranger : infatigable dans la recherche lucrative des truffes en Espagne

Login to Download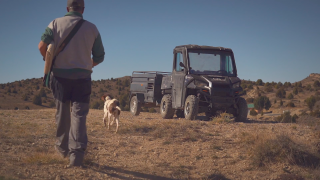 Durable. Dependable. Capable: The Polaris RANGER is one of the bestselling utility side-by-sides across the globe and has earned its reputation as the ultimate utility vehicle. To showcase the versatility of the RANGER and the diversity of its customers, Polaris have embarked on a journey across Europe, Middle East and Africa to discover and film how customers are using the Polaris RANGER in their day-to-day lives. The initiative, called Ranger Stories, is set to demonstrate the many ways in which the RANGER line-up is servicing customer lives worldwide, over and above utility use.
Episode 2 – Spain
Truffles are one of the most expensive and elusive food items in the world, with some being worth more per gram than gold. For the region of Teruel in Spain, the black truffle is a local delicacy thanks to its truffle plantations that host the perfect conditions for the rare fungus to grow.
For the second episode of the Ranger Stories series, Polaris visit the family-run Perales Cartel plantation, owned by Julio Perales, who uses a RANGER 570 to manage a number of specific tasks required to cultivate the black truffle. Located up in the mountains, the ground is very dry and hard – an ideal place for the truffle to grow underground. Dogs are used to sniff out the location of the truffle, and then the farmers carefully dig out each truffle individually. To carry the dogs, Perales uses a special trailer with built-in dog crates – with a standard two-inch receiver and a towing capacity of up to 1,500lb, the RANGER 570 is a quick and straightforward solution to transporting the dogs across the vast plantation, so they can concentrate on detecting the truffle in precise locations.
Thanks to being small in size, the RANGER can travel between the rows of trees with ease, and thanks to being light in weight, it doesn't damage the ground or the truffle underneath. The RANGER 570 also has a large cargo bed providing plenty of space to carry essential tools for the job. With ten-inches of ground clearance, the RANGER can easily manage across the rugged ground and access every corner of the plantation to maximise Perales's truffle harvest.
Catch the second episode of RANGER Stories in Spain across Polaris Off-Road social media channels, or watch and download the video here.