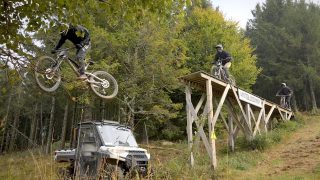 Polaris Off Road continues its Ranger Stories video series in a new light with the introduction of the 'Ranger Stories: Driving Change' initiative.
Polaris is a firm believer that a product comes to life through its applications, partnerships but most importantly, via the people who use it; which is why once again, Polaris has embarked on a journey across Europe, the Middle East and Africa to discover and capture how its customers are driving change alongside the Polaris RANGER. Dedicated to the good that Polaris customers do, Ranger Stories: Driving Change is inspired by the many Polaris customers that are working hard to make a positive impact on the world.
Episode 2 – Lac Blanc Bike Park in Alsace, France
As a popular ski resort for over 50 years, Lac Blanc came alive during the winter time, welcoming skiers and snowboarders from all over the world. In the summer, however, the snow had cleared and all that was left were hikers to explore the natural surroundings that Lac Blanc had to offer. So, in 2007, Lac Blanc opened its Bike Park to make the most of the quiet summer months and welcome a new audience to the area. Downhill mountain biking is rapidly growing in popularity – giving riders a fast-paced, adrenaline-filled challenge with a backdrop of beautiful, natural landscapes – so it's no surprise that the summer months at Lac Blanc Bike Park are now as busy as the winter months.
Carved out of the mountains in Alsace, France, the bike park offers downhill mountain bike riders nine different route options ranging in difficulty and technicality. From families with young children, to serious World Cup competitors that train on the black line, Lac Blanc Bike Park welcomes all skill levels.
Joining the 'Driving Change' spin-off series, Polaris joins the Lac Blanc Bike Park Site Development Director, Michael Barthelme, to see and hear how the Polaris Ranger helps to manage a resort of this size, juggling trail maintenance, rider safety and the extreme terrain that comes with this mountainous setting.
Lac Blanc's intricate trails snake through 170 acres of land, in and out of forests and over extreme gradients. Whilst the riders and their bikes can navigate thanks to the chair lift, the safety team need to be able to access all areas of the site – every trail, tree and corner – to ensure they can keep every inch of the trail clear and reach injured riders.
The Ranger XP 1000 not only gives the Lac Blanc team the power and stability needed to combat these gradients quickly, but is also equipped with on-demand all-wheel drive, meaning that all four wheels engage automatically when the vehicle needs more traction.
For situations involving a rider accident, the team can navigate tight trails within the forest thanks to the Ranger's tight turning radius and 33cm ground clearance to navigate over rocks and tree roots. The cab comfortably seats up to three people in case the rider needs to be transported to a safer or more comfortable location, whilst the 27.9cm front and rear suspension travel ensures the ride is as smooth as possible. The 454kg cargo bed capacity can easily take the weight and size of a mountain bike, if it needs to be transported with the rider, alongside the safety team's essential equipment including medical bags and maintenance tools.
When Lac Blanc Bike Park closes for the winter, Lac Blanc Ski Resort opens; and there's no shortage of use for the Ranger XP 1000 in the winter months either. The team swap out the tyres for tyre tracks, and the Ranger becomes the ultimate snow vehicle, servicing the ski resort throughout the snowy months.
The Lac Blanc Bike Park team also chose to add extra accessories to its Ranger XP 1000 for added comfort and convenience, including a full cab kit – including full doors, windshield, rear panel and roof – with an in-cab heater to manage extreme temperatures in the winter. There's also a LED light bar when daylight hours are reduced, a winch for helping to move fallen trees or assist with extreme hill climbs, and not forgetting the Polaris Lock&Ride tip-down headache rack fitted to the cargo bed for carrying their equipment securely.
For more information on Lac Blanc Bike Park, please visit their website here.
CATCH THE SECOND EPISODE OF RANGER STORIES: DRIVING CHANGE HERE.
—
FOR FURTHER MEDIA INFORMATION ON POLARIS ORV PRODUCTS, PLEASE CONTACT THE POLARIS ORV MEDIA OFFICE AT PRESS@POLARIS-ORV.MEDIA.
ABOUT POLARIS
As the global leader in powersports, Polaris Inc. (NYSE: PII) pioneers product breakthroughs and enriching experiences and services that have invited people to discover the joy of being outdoors since our founding in 1954. Polaris' high-quality product line-up includes the Polaris RANGER®, RZR® and Polaris GENERAL™ side-by-side off-road vehicles; Sportsman® all-terrain off-road vehicles; military and commercial off-road vehicles; snowmobiles; Indian Motorcycle® mid-size and heavyweight motorcycles; Slingshot® moto-roadsters; Aixam quadricycles; Goupil electric vehicles; and pontoon and deck boats, including industry-leading Bennington pontoons. Polaris enhances the riding experience with a robust portfolio of parts, garments, and accessories. Proudly headquartered in Minnesota, Polaris serves more than 100 countries across the globe.