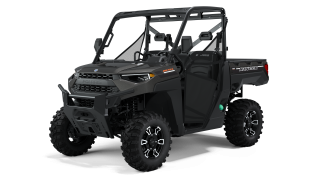 Durable, dependable, and capable, the Ranger Diesel / Ranger Diesel Deluxe is the ultimate utility workhorse.
RANGER DIESEL HD EPS – SAGEBRUSH GREEN [EU / Tractor T1b]
RANGER DIESEL HD EPS DELUXE – SUPER GRAPHITE [Tractor T1b]
DIESEL STANDARD FEATURES:
Industry best Donaldson air filter
Sealed bearings and bushings
Heavy-duty steering rack
2-piece sealed CV drive shaft
Mud Guards
Easy-Access Radiator Panel
Tough, One-Piece Chassis
New Seats
DELUXE TRIM INCLUDES:
Super Grafite Color
LED Headlights
14″ Aluminum Wheels
Premium Steering Wheel
8-Vent Heater Kit
Dual Bin Under Seat Dry Storage Box
Noise Reduction System
• For pricing and availability in your region, please contact your local Polaris press contact.
• Images may show North American models and may have accessories fitted. International models may vary.