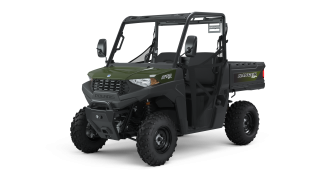 The 2024 Ranger 570 puts best-in-class utility side-by-side performance in your hands. Providing power and performance for every job, the Ranger 570 features the reliable, purpose-built ProStar 570 engine in an agile, mid-size package.
RANGER 570 – SAGE GREEN [EU / QUAD L7E]
RANGER 570 EPS – SAGE GREEN [Tractor T1b / ZUG]
RANGER 570 EPS HUNTER EDITION – PURSUIT CAMO [Tractor T1b / ZUG]
RANGER 570 EPS NORDIC PRO EDITION – BLACK PEARL [Tractor T1b]
570 STANDARD FEATURES:
1,235 Lb. Towing Capacity
 500 Lb. Gas-Assist Dump Box
10″ Ground Clearance
9″ Front / 10″ (25,4 cm) Rear Suspension Travel
56″ Width
 500 Lb. Dump Box
25″ Tires
570 EPS STANDARD ADDITIONS:
Electronic Power Steering (EPS)
HUNTER EDITION TRIM INCLUDES:
Special Edition Polaris Pursuit Camo
NORDIC PRO TRIM INCLUDES:
Full-Coverage Front Bumper
Full-Body Skid Plate
8-Vent Cab Heater
HD 3,500 lb Winch with Synthetic Rope
Mud Guards
12″ Black Aluminium Wheels
LED Lights
Adjustable Driver's Seat
Special Edition Black Pearl Premium Paint
• For pricing and availability in your region, please contact your local Polaris press contact.
• Images may show North American models and may have accessories fitted. International models may vary.