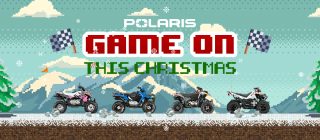 With Christmas fast approaching, Polaris UK announces all-new offers on its Youth lineup with savings of up to almost £1,300 on select models when purchased from an official Polaris dealer, available until 24th December 2023.
Aiming to encourage young riders to take the games outside and discover new adventures in the beautiful countryside, Polaris has given parents even more reason to give the gift of adventure this Christmas with incredible discounts across its Youth side-by-side and ATV models. Customers can get almost £1,300 including VAT off the retail price of a RANGER 150 EFI, and almost £1,000 including VAT off the retail price of its Outlaw 70 EFI, Outlaw 110 EFI and Sportsman 110 EFI Youth ATVs.
Providing the perfect gift for adventurous, adrenaline-seeking kids, Polaris Youth vehicles combine off-road fun with important safety, technology and performance features for parent's peace of mind. Not only does an off-road vehicle give young riders a reason to get outside, but it is also a gift that will grow with them through the years thanks to adjustable riding options and flexible parent-adjustable speed limiters that can be used to adapt the machine to suit their age, experience and skill. With the entire full-size Polaris Off-Road line-up also available, it's an activity the whole family can enjoy.
RANGER 150 EFI
For side-by-side performance that kids will love, the RANGER 150 is the industry's first youth vehicle with smart safety features, making it the ideal vehicle for children to enjoy safely.
The RANGER 150 EFI is ahead of the safety game with Polaris' all-new Helmet Aware technology which allows parents to pre-set the vehicle's controls so it won't start when the helmet beacon is out of range. Not only that, the RANGER 150 also features geofencing capabilities so parents can keep their kids in safe, set parameters whilst riding. From the Ride Command app, parents can control the ride boundaries and set specific speed limits for both inside and outside a geofenced area. Digital speed limiting ensures that kids are riding at the appropriate speed for their age, experience and terrain, and can be easily increased as they grow. The Youth RANGER also features password protection for the engine start, meaning that parents can control when the vehicle is being operated by simply entering a passcode to allow the engine to start.
At 150cc of power with electronic fuel injection, 8" of ground clearance and 22.7kg of storage capacity, the RANGER 150 EFI is ready for a full day of safe riding. Easily operated with automatic PVT transmission (forward/neutral/reverse), plus hydraulic disc brakes on the front and rear and adjustable seats with a tilt steering wheel for the perfect fit. For ultimate safety, every purchase of a RANGER 150 comes with two youth helmets, a safety flag and a training DVD.
Until 24th December, customers can save £1,279.80 on the purchase of a new RANGER 150 EFI, including VAT.
OUTLAW 70 EFI / OUTLAW 110 EFI
Delivering industry-leading safety features and benefits that are designed to grow with young riders, the Outlaw 70 EFI provides reliability you can trust for the next generation. The child-friendly ATV is equipped with advanced safety features for parents' peace of mind, delivering convenient and reliable single-lever disc brakes, an enclosed engine, a parent-adjustable speed limiter to fit the rider's age and skill level, and an industry-exclusive safety kit with a Polaris youth helmet, safety tether, training DVD and whip flag.
The upgraded 70cc engine and new ergonomic design are specifically sized for a wider age range for riders aged 6 and up, enabling young riders to enjoy the machine for longer. The Outlaw 70 also comes with electronic fuel injection (EFI) offering improved cold starts and LED lighting for improved visibility. All-new accessories include front-and-rear bumpers, a storage bag, a windshield and a decal kit that allows kids to customize the machine and make it their own.
The Outlaw is also available in a larger engine size – the Outlaw 110 EFI – to provide the next step up for the next generation. Featuring a reliable 112cc 4-stroke engine with electronic fuel injection, the Outlaw 110 EFI is aimed at riders aged 10 and up.
Until 24th December, customers can save £959.80 on the purchase of a new Outlaw 70 EFI, including VAT, as well as saving £999.80 on the purchase of a new Outlaw 110 EFI, including VAT.
SPORTSMAN 110 EFI
The Youth version of Polaris' bestselling Sportsman ATV; the Sportsman 110 EFI features a reliable 112cc 4-stroke engine ideal for riders aged 10 and up, and boasts the same legendary handling prowess as its adult equivalent. Packed with youth-centred safety features that come as standard, like a speed limiting adjuster, safety flag, daytime running lights, a safety tether, a Polaris youth helmet as well as a training DVD led by Polaris certified trainers, the Sportsman 110 EFI is the ideal machines for kids looking for a comfortable ride and effortless handling whilst out on a big adventure.
Until 24th December, customers can save £999.80 on the purchase of a new Sportsman 110 EFI, including VAT.
Forget video games this Christmas; nature is our playground!
Find your local Polaris dealers on the Polaris Britain website here.
For more information on this offer, please contact your local dealer. Read the full terms and conditions here.