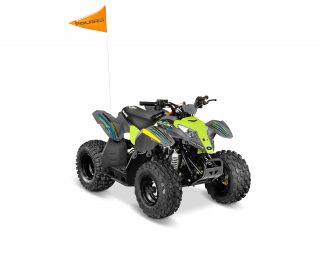 Polaris UK & Ireland are proud to announce they are providing the star prize for the National Gamekeepers' Organisation' Summer Prize Draw. The draw will be launched at this year's Game Fair being held at Hatfield House in Hertfordshire. The NGO will welcome both members and non-members to its stand in the Gamekeeper's Pavillion where visitors can enjoy a free tea or coffee with friends.
The prize is a Polaris Outlaw 50 Junior quad bike which is designed for children aged 6 plus, so is ideal for budding gamekeepers. The Polaris Outlaw 50 will be displayed on the stand, with tickets on sale on the stand for just £1, great value given the recommended retail price of £1,999. Tickets will also be available from the NGO website and from the NGO stand at BBC Countryfile Live, which is on 3-6 August at Blenheim Palace in Oxfordshire.
The draw itself will be held on the NGO stand at Blenheim at 2pm Sunday, the 6th August and full terms are available on the NGO website.
Polaris' Country Manager Jim Clarke praised the NGO for their good work in support of gamekeepers.
"We're pleased as sponsors of the NGO," he said "to be able to play a part in raising funds for the organization and look forward to presenting it to the lucky winner."
Polaris welcomes visitors to their own stand M1531 at the Game Fair where the latest Polaris ATVs and off-road Side by Side vehicles will be on display.
Polaris Britain: 0800 915 6720 www.polaris-britain.com
-END-
26th July 2017
For more press information and images please contact: Tony Hawkins
Tony Hawkins & Associates 01844 279863 Mob: 0797 9598 999