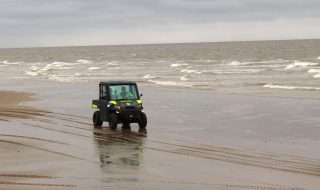 A new emergency police vehicle capable of mobilising officers quickly in some of West Norfolk's most hard to reach places has been launched in Hunstanton.
The Polaris Ranger 570 All-Terrain Vehicle, supplied by Linstead Farm and Garden Machinery, will be based at Hunstanton beach to help search for missing people or assist officers in emergency situations. It is the first time this type of vehicle has been used by Norfolk Constabulary and whilst it will mainly patrol Hunstanton beach, it can also be used on rural land and territory.
Temporary Inspector John Bane, who has taken delivery of the Polaris, complete with police livery, said: "This vehicle will enable us to respond quickly and effectively to incidents taking place on the beach.
"In the cases of a missing person, it provides us with the opportunity to cover lots of the beach in a short space of time where a police vehicle or an officer on foot cannot.
"The vehicle will also be used to patrol the beach and will support the Sandi Starfish initiative which helps reunite families if a child is lost. The vehicle has been designed to catch the eye of a missing child who can then flag it down if they see it and get the assistance they need."
Temporary Inspector Bane added: "The vehicle has the potential to be deployed to other areas, such as woodland and farmland, to assist in other missing person enquiries or pre-planned operations, therefore enhancing our ability to respond to incidents in rural locations."
Norfolk's Police and Crime Commissioner, Lorne Green, said: "Norfolk has a wonderful variety of attractions for families to visit during the long summer holidays not least the long sandy stretches of Hunstanton Beach. While we want this summer to be one to remember for all the right reasons there is always a possibility a child can get separated from their family. We hope the introduction of the Polaris ATV will help reassure families officers will be able to respond quickly to provide any assistance where needed.
"Rural crime remains one of my top priorities and it is also reassuring to hear the ATV can be deployed to incidents in areas of the countryside where local patrol cars may find it difficult to access."
Officers were looking to name the Polaris Ranger 570 to help make it more recognisable to children and asked the public to help by voting for their favourite name. There were three names to choose from: Nelson, Rocky and Sunny and the name finally chosen was Nelson.
Polaris Britain Ltd. 0800 915 6720 www.polaris-britain.com
-END-
9th August 2017
For more press information and images please contact: Tony Hawkins
Tony Hawkins & Associates 01844 279863 Mob: 0797 9598 999