Files
Der Polaris Sportsman meistert Herausforderungen in Norwegen mit hohem Nutzwert und modernster Technik

Login to Download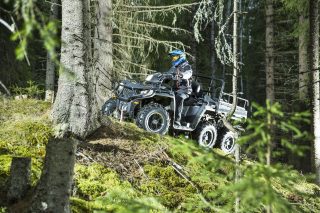 Much of the 385,000 square kilometres of land of Norway is dominated by mountainous, high terrain with fjords and deep grooves cut into the land – challenging ground for some, but not the Polaris Sportsman, which is why it's the vehicle of choice for many of the country's inhabitants for their utility and recreational uses.
"The Sportsman 6×6 is by far the most popular model in our range here – as well as the standard 570 – and we see a wide variety of very different customers for each with diverse needs.", Polaris Norway and Sweden's, Martin Haglev, explained.
In Norway the standard Sportsman 570 can be ridden by 16-year-olds – if it's registered as a tractor and limited to 40kmph – and for those aged 18-years plus, it is restricted to 60kmph, which means that it's often used by youngsters for sport and leisure reasons.
"As well as selling to individuals, we find that the government and large corporate organisations use the Sportsman machines on their sites in remote areas. For example, when there is a power line down, the Sportsman is able to access areas that it would be very difficult to get to otherwise."
The powerful Polaris ProStar® 44HP engine of the Sportsman 570 features fuel injection and Dual Overhead Cams with four valves per cylinder, it starts flawlessly and runs smoothly. It features integrated front storage – with a 29.5 litre (6.5 gallon) capacity so that users can stow away their belongings. A full 11" of obstacle-clearing ground clearance lets you tackle tough terrain.
"It's the versatility of the standard 570 which means it's so popular as it can be used for so many different tasks – even by the same family. The older children could use it for recreation and the parents for work around the grounds."
It's not just the land which offers a challenge, with snow not uncommon, the on-demand true all-wheel drive (AWD) featured on the standard 570 and the 6×6 as standard. The system engages all four tyres when the rear wheels slip and you need more forward traction, reverting back to 2WD when you don't.
"The ability of the Sportsman to go anywhere and handle all terrains and master all weathers, makes it a fantastic choice. It has strong brakes, strong engine and it can travel anywhere with seriously heavy loads. The 6×6 is a real beast, it' been a market leader for many years."
As well as being a capable base machine – with electronic power steering as standard – the availability of such fantastic parts and accessories mean that customers can make it their own.
"It's more of a case of what customers don't put on it from the P&A catalogue, than what they do. Everything from windshields, big boxes, weapon holders – it's one of the strengths of the Polaris machine that there are so many options for owners."
Moose hunting is a popular pastime in Norway – with some adults measuring up to 2.m (6.9ft) high at the shoulder and with males typically weighing 380-700kg, the large cargo bed on the 6×6 is useful. The 6×6 features the industry's largest cargo system.
"Those who buy the 6×6 for hunting see it as a tool – they fit the hunting parts and accessories and utilise it as part of their hunting equipment and gear, just as they do their gun."
For further media information on Polaris ORV products, please contact the Polaris ORV Media Office on +44 (0) 1525 270100 or email us at: press@polaris-orv.media or follow us on Twitter @polarisEMEA_PR
About Polaris
Polaris Industries Inc. (NYSE: PII) is a global powersports leader with annual 2015 sales of $4.7 billion. Polaris fuels the passion of riders, workers and outdoor enthusiasts with our RANGER®, RZR® and POLARIS GENERAL™ side-by-side off-road vehicles; our SPORTSMAN® and POLARIS ACE® all-terrain off-road vehicles; VICTORY® and INDIAN MOTORCYCLE® midsize and heavyweight motorcycles; SLINGSHOT®moto-roadsters; and Polaris RMK®, INDY®, SWITCHBACK® and RUSH® snowmobiles. Polaris enhances the riding experience with parts, garments and accessories sold under multiple recognizable brands, and has a growing presence in adjacent markets globally with products including military and commercial off-road vehicles, quadricycles, and electric vehicles. www.polaris.com