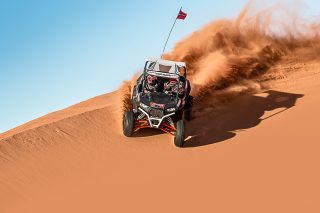 Celebrating its 10th anniversary this year, Polaris changed the off-road world forever with the launch of the RZR 800.
It was in 2005 that Project 'VISTA' – the code name for the development of the RZR – begun, but in the early days it was undecided whether the SXS vehicle should lean more towards being a utility vehicle like the existing Ranger or whether the company should explore a new avenue and break into a new market – sports and recreational.
Greg Brew, Director of Industrial Design, explains: "We were told that it needed to 'accelerate like a snowmobile' – which as you can imagine, was difficult to do with a four-stroke engine and there was a lot of going back and forth about what kind of vehicle it should be – utility or sports – we found that customers responded better to the concept of a sporty vehicle."
One thing was certain from the beginning, the new RZR should have 'Polaris DNA'.
"It needed to be driven off what we were doing with our ATV line and make sure it had the same design DNA as our other products. The development process itself was quite easy once it was decided on the direction it would take. It was very different to how we design a product now, as we research a lot and produce hundreds of sketches before embarking on the design, but with VISTA, we had a few things that we really liked and they hung in there."
Other manufacturers had tried to enter the market place and had hit a number of difficulties – but Polaris, who pride themselves on innovation, believed they were up to the challenge and could succeed where others had failed.
"There was the overwhelming feeling that although other manufacturers had experienced problems – Polaris could do it. We knew that there was a way into that big market for us and thought 'we can do that' and we did – and we did it well. If you stayed within the boundaries of what people and brands had always done, then you'd never try anything new – so we're always looking to push innovation."
Developed from the 'ground up', it was almost a clean sheet for designers when it came to the RZR, building a new machine around the parts, which would form the base.
"We had a number of parts from the ATVs in the range as a basis to work around. We needed to design a new frame around an ATV front drive, wheels and half shafts as well an ATV transmission, CVT and engine – it was a case of packaging that into the RZR. The back end positions itself – it's a fixed distance between the crank centre and the input shaft on the transmission as defined by the CVT – and then within a small amount of area you've got a fixed location where your CVs can operate with the amount of suspension travel we wanted, so you know that whole back end kind of built itself – then the rest was figuring out how long you wanted it to be and where you wanted to put the occupants."
Bringing Greg onto two of the biggest challenges for the design and development of the first RZR – rider placement and weight distribution.
"You had to get it stable enough so that it would pass our stability requirements – a challenge as it was only 50" wide. That was one of the hardest things – trying to make it as short and narrow as possible so that it was trail ready. A rider can counter the roll motion on an ATV but can't in a RZR so it was tough."
It was a game of inches – or less – to get the rider positioning correct. Everything down to rider's little toes were considered.
"It was important to get the RZR right ergonomically – even though we knew you weren't going to have a lot of cab room. You were going to be elbow to elbow in it, especially if you were a big guy and yet we still needed to ensure the occupant was comfortable. That's one thing that we ended up doing a really good job of – getting the right placement of the person in the vehicle to get the right stability and also getting enough comfort for them. We did wind up adding an inch overall just to get your left foot comfortable in the footwell."
With so many variables, designers faced a balancing act to ensure that everything was at its optimum setting.
"It was important for us to get it setup right – and there were a lot of things to consider. We needed to maintain a certain amount of ground clearance for stability and maximum suspension travel. Even down to the tyre profile – we looked at a lot of different profiles. With it being a high performance off-road vehicle, we had to start thinking about all those things differently – sway bars, tyre contact patches, rider height, weight distribution – it was a good programme and all the time there's internal conversations and challenges – it was brilliant."
The hard work paid off, the success of the RZR has been incredible – the early sales forecasts made by Polaris had to be changed by over 200% from their initial plans – and ten years later, the RZR is still going strong. Now, the iconic RZR is considered the ultimate combination of power, suspension, agility and comfort. Fueled by relentless innovation, the Polaris RZR range has been designed to dominate every type of off-road terrain. From trail and desert riding to duning, rock crawling and mudding, the RZR allows users to do it all – including winning the SSV Class in the 2016 Dakar.
For further media information on Polaris ORV products, please contact the Polaris ORV Media Office on +44 (0) 1525 270100 or email us at: press@polaris-orv.media or follow us on Twitter @polarisEMEA_PR
About Polaris
Polaris Industries Inc. (NYSE: PII) is a global powersports leader with annual 2015 sales of $4.7 billion. Polaris fuels the passion of riders, workers and outdoor enthusiasts with our RANGER®, RZR® and POLARIS GENERAL™ side-by-side off-road vehicles; our SPORTSMAN® and POLARIS ACE® all-terrain off-road vehicles; VICTORY® and INDIAN MOTORCYCLE® midsize and heavyweight motorcycles; SLINGSHOT®moto-roadsters; and Polaris RMK®, INDY®, SWITCHBACK® and RUSH® snowmobiles. Polaris enhances the riding experience with parts, garments and accessories sold under multiple recognizable brands, and has a growing presence in adjacent markets globally with products including military and commercial off-road vehicles, quadricycles, and electric vehicles. www.polaris.com