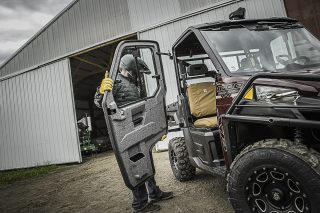 The Polaris Ranger has been a trusted partner of farmers, hunters and those looking after their homes and land for over a decade now.
With a range of models available – from the mid-size two-seater Ranger 570 EPS, to the full-size crew 1028cc Ranger Diesel HD machine, the versatile ORV from Polaris is well-equipped for a variety of tasks, combining hard work with ease of use.
With a comprehensive range of Lock & Ride accessories, equipping the Ranger for every need or requirement has never been easier.
A revolutionary system that enables the fit of accessories in seconds, Lock & Ride gives more time to work or play. While most optional accessories are built for permanent installation and can often take a while to install – the Lock & Ride system allows fitment and removal in minutes, depending on the requirement.
The Lock & Ride system comprises of roof, door, windshield and rear panel options, keeping riders protected from the elements with choices made from glass to canvas.
Full-size Lock & Ride accessories include:  
Pro-Fit Poly Premium Roof
As well as adding more comfort to the cockpit and more style to the Ranger, the Premium Roof offers protection from rain, snow, desert sun or any other elements that the world can throw your way. It has a contoured fit, tight fitting seal and an integrated liner to ensure it fits perfectly and shuts out any unwanted noise from inside the cab.
Pro-Fit Clearview Doors
For premium cab comfort, whilst maintaining maximum visibility, the Clearview doors offer the same quiet comfort as other options, but due to their minimal frame design and clear polycarbonate shell, it's almost like riding with no doors at all. Perfect for agricultural applications, sites or for tight maneuverers on the trail. They feature a window that can hinge open at the front of the rear for optimum ventilation and the upper glass is scratch-resistant.
Pro-Fit Sport Roof – also available for mid-size, crew full-size and crew mid-size models
Made from Injection Molded Rigid Plastic, the sport roof turns the Ranger into a retreat from the elements offering improved driver comfort.
Full-size and Crew Full-Size Lock & Ride accessories include: 
Pro-Fit Fixed Glass Windshield
Easy to fit with a four-bolt installation, the shatterproof and scratch resistant laminate safety glass windshield connects to designated mountain locations in the cab frame. Accessory windshield wiper/washers can be added – sold separately.
Pro-Fit Poly Rear Panel – also available for mid-size and crew mid-size
As ORV users will know, often an unfinished cab or stand-alone windshield can result in 'cab swirl' – a condition where wind, dust, water spray and other unwelcome visitors whip around the cockpit. There are two choices – put up with it or add a rear panel.  Made from a lightweight, durable Polycarbonate, the Poly Rear Panel offers an affordable solution. 
Pro-Fit Tip-Out Glass Windshield
The three-position adjustability allows riders to control the amount of airflow into the cab. The protective, laminate safety glass provides a high level of scratch resistance. Can be fitted with the accessory windshield wiper/washers – sold separately.
Pro-Fit Poly Doors w/hinged glass windows – also available for mid-size and crew mid-size models
These allow riders to introduce airflow or close off the cab for the fullest protection from weather and off-road hazards when required. Fitting seamlessly to the profile tubing for ease of installation, these doors feature hinged windows that can be opened as little or a much as users want – depending on the weather. Made from injection moulded rigid plastic with a steel frame, the laminate safety glass of the windows contains a layer of polyvinyl butyral (PVB) to block UV rays.
Pro-Fit Canvas Doors – also available for mid-size and crew mid-size 
Canvas doors offer an affordable solution to complete the Ranger cab to protect the user from the elements. They seal tight to the frame, mount easily and deliver added comfort to all those inside.
 Pro-Fit Glass Rear Panel
Install or remove easily in seconds with quarter-turn handles, the durable, tempered laminate glass provides high level of scratch resistance and protection against 'cab-swirl' whilst maintaining a good field of vision.
Check with your local Polaris ORV dealer to discover the range of accessories available.
For further media information on Polaris ORV products, please contact the Polaris ORV Media Office on +44 (0) 1525 270100 or email us at: press@polaris-orv.media or follow us on Twitter @polarisEMEA_PR 
About Polaris
Polaris Industries Inc. (NYSE: PII) is a global powersports leader with annual 2015 sales of $4.7 billion. Polaris fuels the passion of riders, workers and outdoor enthusiasts with our RANGER®, RZR® and POLARIS GENERAL™ side-by-side off-road vehicles; our SPORTSMAN® and POLARIS ACE® all-terrain off-road vehicles; VICTORY® and INDIAN MOTORCYCLE® midsize and heavyweight motorcycles; SLINGSHOT® moto-roadsters; and Polaris RMK®, INDY®, SWITCHBACK® and RUSH® snowmobiles. Polaris enhances the riding experience with parts, garments and accessories sold under multiple recognizable brands, and has a growing presence in adjacent markets globally with products including military and commercial off-road vehicles, quadricycles, and electric vehicles. www.polaris.com