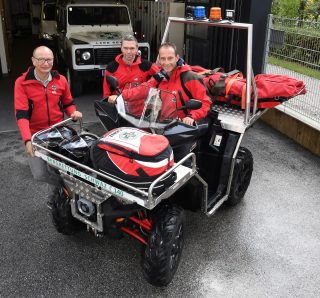 Operating in challenging conditions is a key feature of any Polaris product, whether it's racing across sand dunes in 30 degree heat or working at the top of an Austrian mountain in below freezing temperatures.
Vonblon Power is a Polaris dealer who provides customised vehicles for the Austrian Mountain Rescue team. When there's an emergency, the mountain rescue team need transportation in a vehicle that they trust – not just to get to the casualty, but to get the patient to a place of safety quickly and smoothly.
Gerold Vonblon, Managing Director of Vonblon Power, explained more: "We have worked very closely with the Mountain Rescue team since 2004 and every year build them a new customised machine, using the latest Polaris All-Terrain products and Off-Road Vehicles as a basis."
Most recently they have chosen Polaris Sportsman XP 1000 and RANGER XP 1000 alpine versions by Vonblon. The already capable vehicles have been customised with all the parts and accessories you would expect to master the snow-covered mountains, including: tracks, full cab systems, heaters and trailer hitches.
"A lot of the parts and accessories are available from Polaris, continued Vonblon. "So customers can select easily and have them fitted to their own machine. Some of the more specialist items we make ourselves. We've also developed with the government a range of tracks which are street legal. The RANGER's have been fitted with a special rescue platform inside the bed of the vehicle for the casualty to be brought down the mountain safely."
By using the specialist Polaris vehicles, the Mountain Rescue team can reach some of the highest peaks, thanks to the lightweight nature of the machine. Unlike traditional rescue stretchers, the customised machines also have the ability to carry two to three people. It's easy to attach trailers too thanks to impressive towing capacity – 680.4kg for the Sportsman XP 1000 and 907kg for the RANGER XP 1000.
Technical Boss of Mountain Rescue, Mr Herbert Figl, said: "Polaris products offer us the best of everything. By fitting tracks, they enable us to go on any surface – it doesn't matter whether it's snow, mud and asphalt – even ice with studs mounted. This means we can use the one vehicle for all requirements, which makes things a lot simpler and cost effective as there's no need to move the patient from one vehicle to another."
To discover the full range of Polaris Off-Road Vehicles, contact your local Polaris dealer.
For further media information on Polaris ORV products, please contact the Polaris ORV Media Office on +44 (0) 1525 270100 or email us at: press@polaris-orv.media or follow us on Twitter @polarisEMEA_PR
About Polaris
Polaris Industries Inc. (NYSE: PII) is a global powersports leader with annual 2015 sales of $4.7 billion. Polaris fuels the passion of riders, workers and outdoor enthusiasts with our RANGER®, RZR® and POLARIS GENERAL™ side-by-side off-road vehicles; our SPORTSMAN® and POLARIS ACE® all-terrain off-road vehicles; VICTORY® and INDIAN MOTORCYCLE® midsize and heavyweight motorcycles; SLINGSHOT®moto-roadsters; and Polaris RMK®, INDY®, SWITCHBACK® and RUSH® snowmobiles. Polaris enhances the riding experience with parts, garments and accessories sold under multiple recognizable brands, and has a growing presence in adjacent markets globally with products including military and commercial off-road vehicles, quadricycles, and electric vehicles. www.polaris.com