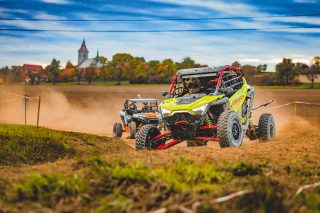 The OffRoad Maraton in Czech Republic is described as a racing series for lovers of fast driving, mud, disappearing sandy tracks and the smell of gasoline, designed for all motoring enthusiasts regardless of age or gender, but with their hearts in the right place.
For Polaris, the OffRoad Maraton is an opportunity to showcase the true potential of the RZR and Scrambler lineups and the talent of the riders on the Polaris CZ racing team and several more teams of participating dealers. Presenting a series of racing events that take place across the Czech Republic, the races are intense with a five-hour duration for the car category (including SSVs), and three hours for quads.
Competing in the OffRoad Maraton is Polaris' most powerful and advanced side-by-sides of all time, the RZR Pro R and RZR Turbo R, introduced to the lineup for 2022, as well as the proven RZR Pro XP and Turbo S. In the ATV category, Polaris competitors join the grid with the punchy Scrambler XP 1000 S.
2022 REVIEW
The Polaris RZR Pro R topped the Car leaderboards in 2022, winning the overall championship with 97 points for rider and Polaris dealer, Michal Adamik. Following closely behind is another Polaris dealer – Mira Mazanec – with the RZR Turbo R, finishing third overall in the series. The Polaris CZ team managed to secure an astounding fourth position overall considering they entered the season at the midpoint, competing in the four final races only. Two more teams supported by other participating dealers finished in fifth and sixth position overall.
In the ATV category, Polaris Scrambler rider Adam Bezděk took the championship title with an incredible 193 points out of a possible 200. 16-year-old Polaris-sponsored rider Ilja Kostelník claimed his first victory in the championship's final round which led to a second position in the overall standings, only 14 points behind Adam.
"Last year's success with the Polaris RZR and Scrambler has given us a glimpse at what's to come this year", said Václav Koucký, Country Manager at Polaris CZ distributor Meteor Motor Tech. "Our Factory team racers, sponsored riders and our dealers taking part are all incredibly committed, and really showing what our vehicles are capable of. This is a big championship here in the Czech Republic, open to all manufacturers, so we're very happy to be at the top."
2023 SEASON
As the 2023 season approaches, several new Polaris machines join the lineup inspired by the performance seen in the previous year. Polaris Czech Republic will also be working in synergy with the organisers to embed its Polaris Demo Days into some of the racing weekends, allowing riders to test the latest machines on offer.
2023 race season calendar
March 25th – Milovice
April 15th – Janovice
May 20th – Jihlava
June 24th – Rokycany
August 26th – Vroutek u Podbořan
September 16th – Karviná
October 14th -Hodonín
November 11th – Šiklův Mlýn
Riders now prepare for testing at the season opener held in Šiklův Mlýn on February 18th, ready for a full year of racing madness ahead.
For more information on the OffRoad Maraton, please visit www.offroadmaraton.cz
For more information, please contact the Polaris ORV Media Office at press@polaris-orv.media
ABOUT POLARIS
As the global leader in powersports, Polaris Inc. (NYSE: PII) pioneers product breakthroughs and enriching experiences and services that have invited people to discover the joy of being outdoors since our founding in 1954. Polaris' high-quality product line-up includes the Polaris RANGER®, RZR® and Polaris GENERAL™ side-by-side off-road vehicles; Sportsman® all-terrain off-road vehicles; military and commercial off-road vehicles; snowmobiles; Indian Motorcycle® mid-size and heavyweight motorcycles; Slingshot® moto-roadsters; Aixam quadricycles; Goupil electric vehicles; and pontoon and deck boats, including industry-leading Bennington pontoons. Polaris enhances the riding experience with a robust portfolio of parts, garments, and accessories. Proudly headquartered in Minnesota, Polaris serves more than 100 countries across the globe.