Files
Polaris People: agricultor de montanha galês impulsiona desenvolvimento do Ranger Diesel
Polaris People : un agriculteur gallois participe au développement du Ranger Diesel
"Polaris People": Landwirt Rhys Thomas schwört im walisischen Bergland auf den bulligen RANGER Diesel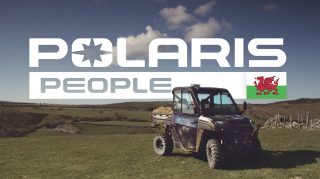 Since its founding in 1954, Polaris has been inviting people to Think Outside and discover the joy of being outdoors. The innovation, performance and growth that has allowed Polaris to become a global leader in off-road vehicles have been driven by the diversity and passion of its customers, staff, dealers and stakeholders across the world. To celebrate the people behind the brand, Polaris has launched a new initiative, called Polaris People, to showcase how, for many people, Polaris isn't just a brand but a life choice.
Polaris People is a video series documenting the stories of individuals across Europe, Middle East and Africa, where Polaris plays an essential role in their lives, all united by a thirst for the outdoors.
EPISODE 2: Rhys Thomas, Hill Farmer in Wales
For more than 20 years, Polaris has been building off-road vehicles that represent years of research and development, allowing them to perform better, work harder and ride smoother. The launch of the new Ranger Diesel in 2019 was no exception: Inspired by its users, Polaris saw the opportunity to develop the Ranger Diesel into something specifically adapted to its European market. To do this, Polaris enlisted the help of existing customers to drive improvements in line with real-life requirements.
The second episode of Polaris People introduces Rhys Thomas – a hill farmer in Wales, UK, and a longstanding Polaris customer. Living in Wales – a country known for its rugged coastline, contrasting valleys and mountains and temperamental weather conditions – Pen Isa Dre Farm boasts endless rolling hills in a secluded area of Abergele, making it the perfect destination for testing the capabilities of the pre-production Ranger Diesel.
Rhys was one of four UK farmers selected to test the Ranger Diesel before it was launched. Being a hill farmer, he relies on his Polaris machines to reach all areas of his land, as well as making his daily tasks more efficient, like fencing, rounding up and moving around the animals with a trailer, towing the animal feeders, and even as a means of transport in snowy and adverse weather conditions when other vehicles are not able to access the farm.
"We were big fans of the previous diesel model, so we were a little cautious trying the new one," said Rhys. "But we soon realised that it was indeed a much better, improved machine. My son summed the model up by calling it 'The Beast'."
Improved reliability, durability, performance and refinement were all key objectives for the project, and Polaris was keen to ensure the product had delivered on these before it made the final call to release the product into production.
With its new, powerful and durable diesel engine and lower cost of ownership thanks to an increased engine service interval to over 200 hours, plus a host of other design, capability and ergonomic enhancements, the satisfaction from the customer trials was overwhelming, leading to the launch of the Ranger Diesel as we now know it in April 2019.
"The Ranger Diesel is a godsend for us, and we were happy to be a part of its initial trial in the UK. Tried, tested and approved by us."
Check out the second episode of Polaris People to join Rhys and his son on their family farm in Wales, as they give you an inside look at the beautiful Welsh countryside and how the Ranger Diesel helps their everyday life. Available to watch on the Polaris Off-Road International YouTube channel here.
FOR FURTHER MEDIA INFORMATION ON POLARIS ORV PRODUCTS, PLEASE CONTACT THE POLARIS ORV MEDIA OFFICE ON +44 (0) 1525 270100 OR EMAIL US AT PRESS@POLARIS-ORV.MEDIA.
About Polaris
As the global leader in powersports, Polaris Inc. (NYSE: PII) pioneers product breakthroughs and enriching experiences and services that have invited people to Think Outside since our founding in 1954. With annual 2019 sales of $6.8 billion, Polaris' high-quality product line-up includes the Polaris RANGER, RZR and GENERAL side-by-side off-road vehicles; Sportsman all-terrain off-road vehicles; Indian Motorcycle mid-size and heavyweight motorcycles; Slingshot moto-roadsters; snowmobiles; and deck, cruiser and pontoon boats, including industry-leading Bennington pontoons. Polaris enhances the riding experience with parts, garments and accessories, along with a growing aftermarket portfolio, including TransAmerica Auto Parts. Polaris' presence in adjacent markets includes military and commercial off-road vehicles, quadricycles, and electric vehicles. Proudly headquartered in Minnesota, Polaris serves more than 100 countries across the globe.