Files
Polaris offer 'Ultimate RANGER® Experiences' around the world to celebrate 20th anniversary
Pour fêter les vingt ans de son SSV,
Polaris lance un grand concours photo Ultimate RANGER® Expériences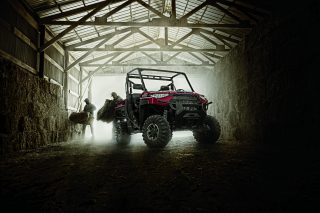 For two decades, Polaris has provided class leading performance with their best selling utility vehicle, the RANGER®. This year marks the 20th anniversary of the iconic model, just a few months after the brand celebrated the one millionth RANGER® unit rolling off the production line.
To mark this key milestone in the brands history, Polaris is offering their customers the chance to win one of the 'Ultimate RANGER® experiences' on offer – a range of exclusive experiences, with the RANGER® vehicle at the heart.
To take part, customers are encouraged to visit the Polaris website at www.ranger20thanniversary.com, and simply upload a picture of their 'RANGER® experience' with a caption explaining their image for the chance to win. Entrants don't even have to own their own RANGER®, they could have driven one of the vehicles at a Polaris event or taken a test ride.
The judging panel will include a representative from Polaris Industrial Design in the United States of America, who will be looking for entries which show an authentic, inspiring experience and excitement for the brand.
The Ultimate RANGER® Experiences available to win include:
Iceland – Enjoy the stunning landscape of the Icelandic mountains and see how the iconic RANGER® is customised and used by owners of lodges in the mountains to access their remote cabins.
Greece – Explore the Greek island of Naxos, the largest of the Cyclades island group, in a RANGER®. Take a trip around the mountain villages, tour the ancient ruins and soak up on the sun on the long stretches of beach. Save your energy and use the RANGER® to drive to Kasto, a hilltop castle dating back to the 13th century.
The competition opens for entries on May 15th 2018 and closes on July 1st 2018 – giving entrants plenty of time to get in their submissions. Winning entrants will be announced on 16th July, with the experiences taking place all the way through to March 2019. For full terms and conditions, visit the Polaris website.
Rodrigo Lourenco, Vice President and General Manager of Off-Road Vehicles EMEA, said: "We're proud to be celebrating the 20th anniversary of the RANGER® model – a key vehicle in the vehicle line-up for Polaris. With its ability to be modified and adapted to master any environment and application, the RANGER® is extremely versatile and we look forward to hearing the RANGER® experiences from our owners."
Forming a key part of the Polaris product line, the RANGER® is used globally for a variety of tasks. Its legacy continues to grow stronger year on year with new models being released along with a vast array of Polaris Engineered parts and accessories which allow owners to further adapt the already capable vehicle to its surroundings.
For further media information on Polaris ORV products, please contact the Polaris ORV Media Office on +44 (0) 1525 270100 or email us at: press@polaris-orv.media or follow us on Twitter @polarisEMEA_PR
About Polaris
Polaris Industries Inc. (NYSE: PII) is a global powersports leader with annual 2017 sales of $5.4 billion. Polaris fuels the passion of riders, workers and outdoor enthusiasts with our RANGER®, RZR® and POLARIS GENERAL™ side-by-side off-road vehicles; our SPORTSMAN® and POLARIS ACE® all-terrain off-road vehicles; VICTORY® and INDIAN MOTORCYCLE® midsize and heavyweight motorcycles; SLINGSHOT® moto-roadsters; and Polaris RMK®, INDY®, SWITCHBACK® and RUSH® snowmobiles. Polaris enhances the riding experience with parts, garments and accessories sold under multiple recognizable brands, and has a growing presence in adjacent markets globally with products including military and commercial off-road vehicles, quadricycles, and electric vehicles. www.polaris.com