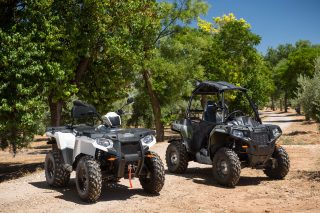 Home to over 300 million olive trees and considered to be the world's leading producer and exporter, Spain takes its olive industry very seriously; which is why many of the country's farmers are turning to the world's largest off-road vehicle manufacturer – Polaris.
With significant experience supporting olive farmers in the Spanish market specifically, Polaris products have become an increasingly familiar sight, with the Sportsman 570 and Ace 570 models allowing farmers to streamline their businesses with one tool that can deal with the specific nature and terrain associated with olive farming right across the country.
Polaris Spain's Miriam Torrens, explained, "It's a pretty specific criteria when it comes to supporting farmers in this industry. The considerations for purchase vary from the usual factors such as price, reliability and ease of use, through to physical size and power output required in very hilly areas. Thanks to the torque-biased nature of our engines, like the 570cc fitted to the Sportsman and Ace, we can offer farmers flexibility that is at home in the mountains or the plains."
With some of the most varied terrain in Europe, Polaris need to offer product that works as well as in the north of Spain as it does in the south.
Torrens continued, "The farmer in the north of Spain really needs the confidence when farming high-up, but thanks to the all-wheel-drive system that detects wheel-spin and automatically switches from two to four wheel drive, it's there when its needed, even when towing hundreds of kilos of olives. Equally, for the farmer in the south, where temperatures can get as high as 40 degrees C, our liquid cooled engine keeps everything in check, even at the slowest of speeds and heavy loads during harvest."
While the Sportsman range offers a relatively conventional approach to farming, being a more standard ATV style machine, the Ace offers additional safety due to its roll-over protection as standard; a great benefit for lone farmers. Scoring over other models, the Ace offers a lower overall height making it ideal for passing through the lines of trees when farming.
With the main olive season occurring between September and January, the window of use and conditions encountered can be diverse, while specific accessories developed locally for use with the Ace and Sportsman really aid and streamline the process. Away from the main season, the Polaris models continue to be invaluable due to the many other applications and uses they are utilised for.
Olive farming in Spain is just one of the tasks the Sportsman and Ace perform in Europe – and the world.
For further media information on Polaris ORV products, please contact the Polaris ORV Media Office on +44 (0) 1525 270100 or email us at: press@polaris-orv.media or follow us on Twitter @polarisEMEA_PR
About Polaris
Polaris Industries Inc. (NYSE: PII) is a global powersports leader with annual 2015 sales of $4.7 billion. Polaris fuels the passion of riders, workers and outdoor enthusiasts with our RANGER®, RZR® and POLARIS GENERAL™ side-by-side off-road vehicles; our SPORTSMAN® and POLARIS ACE® all-terrain off-road vehicles; VICTORY® and INDIAN MOTORCYCLE® midsize and heavyweight motorcycles; SLINGSHOT® moto-roadsters; and Polaris RMK®, INDY®, SWITCHBACK® and RUSH® snowmobiles. Polaris enhances the riding experience with parts, garments and accessories sold under multiple recognizable brands, and has a growing presence in adjacent markets globally with products including military and commercial off-road vehicles, quadricycles, and electric vehicles. www.polaris.com