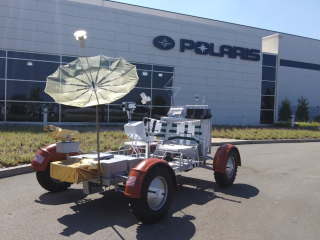 Fifty years ago, mankind accomplished the ultimate off-road odyssey when they landed on the moon. To honour and celebrate the legends of the Apollo 11 mission, Polaris Industries collaborated with the US Space and Rocket Centre (USSRC) in Huntsville, Alabama to create a working replica of the Lunar Rover. This was the ultimate off-road project for Polaris.
The new Polaris Lunar Rover Replica made its first public debut in Huntsville, Alabama at the USSRC Apollo Celebration Car Show on 13th July. The replica brakes, accelerates, and has four-wheel Ackermann steering, like the original NASA Lunar Rover Vehicle (LRV). The fenders were fiberglass moulded using the original 50-year old moulds that produced the parts that are on the moon. The replica, however, is much faster than the original.
The Polaris Lunar Rover Replica encompasses Polaris' 65-year history through its use of parts from each line of Polaris vehicles: snowmobiles, motorcycles, Slingshots, ATV's, side-by-sides, Electric GEM's and military vehicles. Utilising a number of key parts from the line-up of off-road vehicles, the Lunar Rover Replica features a fabricated chassis and power steering from the RZR, driveline motor controller from the Ranger EV, half shafts from the Ranger and suspension a-arms from the Sportsman.
As the nation celebrates the 50-year anniversary of the Apollo 11 mission, the Polaris Lunar Rover Replica has appeared at many events, including its first public debut at the USSRC Apollo Celebration Car Show in July, as well as the Landing on the Moon parade in Huntsville, and the Marshall Space Flight Centre (SFC) to be unveiled by NASA. The replica is also set to complete a lap around the Talladega Speedway in October this year.
Members from the original LRV crew and a NASA astronaut worked with the Polaris Lunar Rover Replica team on the project from start to finish. Polaris employees volunteered their time to work on the development of the near-exact LRV replica.
"Having the opportunity to honour legends, work with members of the original crew and lend our expertise and technologies to build this Lunar Rover Replica has been incredible," said Bryan Ogle, Manager of Manufacturing at Polaris Industries. "One of the coolest things was being able to mould the fiberglass fenders using the original 50-year-old moulds. And now seeing it in action, riding it, it's amazing."
Special thanks to the original rover team on sharing the marvels of engineering that have remained inspirational generations later. The Polaris Lunar Rover Replica not only pays tribute to the marvels of engineering, but it will also inspire the dreamers and builders of generations to come.
For further media information on Polaris ORV products, please contact the Polaris ORV Media Office on +44 (0) 1525 270100 or email us at: press@polaris-orv.media or follow us on Twitter @polarisEMEA_PR
About Polaris
Polaris Industries Inc. (NYSE: PII) is a global powersports leader with annual 2017 sales of $5.4 billion. Polaris fuels the passion of riders, workers and outdoor enthusiasts with our RANGER®, RZR® and POLARIS GENERAL™ side-by-side off-road vehicles; our SPORTSMAN® and POLARIS ACE® all-terrain off-road vehicles; VICTORY® and INDIAN MOTORCYCLE® midsize and heavyweight motorcycles; SLINGSHOT® moto-roadsters; and Polaris RMK®, INDY®, SWITCHBACK® and RUSH® snowmobiles. Polaris enhances the riding experience with parts, garments and accessories sold under multiple recognizable brands, and has a growing presence in adjacent markets globally with products including military and commercial off-road vehicles, quadricycles, and electric vehicles. www.polaris.com