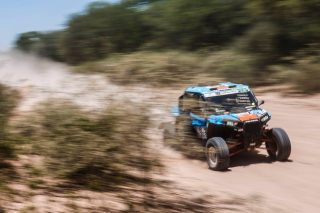 Polaris Factory drivers have dominated the first half of Dakar 2017, locking out the top five positions in the newly recognised SSV class, as competitors reached rest day on Sunday (Jan 8), the traditional midway point.
Run by the Factory Xtreme Plus team from France, the five remaining Polaris crews are the only SSV crews left in the demanding race and are headed by the Brazilian pairing of Leandro Torres and co-driver Lourival Roldan, who have a two hour and thirty minute lead in their RZR1000XP machines.
Following Torres and Roldan are the Chinese and French duo of Mao Ruijin and Sebastien Delaunay, who are currently fending-off fellow Polaris team-mates Li Dongsheng and Quanquan Guan by just over 10 minutes.
With every other manufacturer having now retired from this year's event, the Xtreme Plus team continue their 100% run of reliability, with the Russian pairing of Maganov Ravil and Kirill Shubin continuing to push in fourth place, while China's Wang Fujiang and Lie Wei round out the top five.
Team Director, Marco Piana, summarised the first half of Dakar 2017, commenting, "I am very satisfied with our first week on the Dakar. Compared to our competitors all of our RZRs have made it to Le Paz and have completed every stage despite very difficult navigation, high temperatures and rain."

 "This is made even more impressive when you consider we have three new drivers this year and a line-up of many nationalities. The three Chinese teams in particular, have a mentality and strategy that centers around endurance due to their specific racing experience on tough terrain in China, whereas our Russian pairing have shown outright pace winning stages in the process. As for our current leaders, the Brazilian crew benefit from experience, specifically from last year's event and continue to push on with confidence."
With the final stage of week one (Oruro-LaPaz) cancelled due to heavy precipitation in the area, it marked the end of a tough first week, following high temperatures in Argentina, poor weather in Bolivia, and serious altitude to overcome too.
For the second and final week of Dakar 2017, the crews will face a marathon stage without service assistance.
Marco Piana, continued, "The difficulties will be the same; tiredness, altitude, heat and the need to stay focused. The machines have been prepared and revised during the rest day, with our team mechanics working from early in the morning to be as prepared as possible. If our crews stay focused, they will all be at the finish line in Buenos Aires. We look forward to bringing all of our crews home safely."
The 2017 Dakar concludes in Buenos Aires on Saturday January 14.
The XtremePlus Polaris Team consist of the following crews:
No. 342 MAO RUIJIN / SEBASTIEN DELAUNAY (CHINA / FRANCE)
No. 351 LEANDRO TORRES / ROLDAN LOURIVAL (BRAZIL)
No. 374 LI DONGSHENG / QUANQUAN GUAN (CHINA / CHINA)
No. 378 MAGANOV RAVIL / KIRILL (RUSSIA / RUSSIA)
No. 386 WANG FUJIANG / LI WEI (CHINA / CHINA)
Fore more information on the Polaris entry into the 2017 Dakar, please follow the XtremePlus team on Facebook at https://www.facebook.com/infoxtremeplus/
For more information on the Dakar that takes place between January 2 and 14, please visit www.dakar.com
For further media information on Polaris ORV products, please contact the Polaris ORV Media Office on +44 (0) 1525 270100 or email us at: press@polaris-orv.media or follow us on Twitter @polarisEMEA_PR
About Polaris
Polaris Industries Inc. (NYSE: PII) is a global powersports leader with annual 2015 sales of $4.7 billion. Polaris fuels the passion of riders, workers and outdoor enthusiasts with our RANGER®, RZR® and POLARIS GENERAL™ side-by-side off-road vehicles; our SPORTSMAN® and POLARIS ACE® all-terrain off-road vehicles; VICTORY® and INDIAN MOTORCYCLE® midsize and heavyweight motorcycles; SLINGSHOT® moto-roadsters; and Polaris RMK®, INDY®, SWITCHBACK® and RUSH® snowmobiles. Polaris enhances the riding experience with parts, garments and accessories sold under multiple recognizable brands, and has a growing presence in adjacent markets globally with products including military and commercial off-road vehicles, quadricycles, and electric vehicles. www.polaris.com