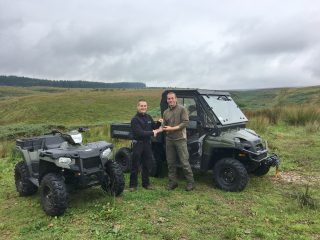 The goal at the Kennel Club's Emblehope and Burngrange estate in Northumberland is to create a Centre of Excellence for gundog training. It's a long term project but when you look around it's easy to see why the area has so much potential. Bracken filled gullies, rough pasture, expansive wetlands and heather all contribute to offering training opportunities for gundogs of any age or stage. The estate has recently invested in two Polaris off-road vehicles, a Ranger 6 x 6 and Sportsman 570 ATV, supplied by authorised Polaris dealer Davies Tractors of Riding Mill, to help manage the beautiful moorland which stretches to around 7,550 acres. Emblehope is a busy, working hill farm with sheep and cattle. It is also a site of Special Scientific Interest so it is important to minimise damage to the ground in maintaining the estate. A gamekeeper for over thirty years on a number of estates across Scotland, Raymond Holt, as full-time gamekeeper at Emblehope, has the task of ensuring this.
"We needed a vehicle to carry loads across the estate without tracking and causing erosion," he says. "Crates of partridges for release pens, pen sections, bags of feeding, water, people and dogs during training and competitive events – it's all in the day's work and we judged the Polaris Ranger  6 x 6 to be the best for what we do."
The Ranger fulfils a lot of roles. It's out at night on predator control, negotiating difficult terrain and going places even the quad can't go, taking on steep gradients in the knowledge there is the comfort and safety of the cab. It boasts a powerful 40HP 800 twin engine with EFI for fast starts, 907 kg of towing capacity and a rear dump box capacity of 567kg. The Polaris Sportsman 570 on the other hand is used as an all-purpose vehicle for carrying smaller loads on quicker journeys around the estate.
"The Polaris is a brilliant quad," says Raymond, "very capable with a big wide platform and very stable. We use it for feeding the pheasants – we have fitted a spinner on the back for broadcast feeding – and as a general patrol vehicle."
As a Centre of Excellence for Working Dogs, Emblehope welcomes the full range of working dog activities such as Field Trials including Pointer and Setter Spring Stakes, gundog working tests and training days, live game training days and working trials through to shooting and gundog activities. The shooting estate offers pheasant and partridge shooting while the varied terrain and woodland cover offer opportunities for all breeds of gundog to demonstrate their natural working abilities.
Polaris Britain: 0800 915 6720 www.polaris-britain.com
Photo caption (L-R): Kevin Davies of Davies Tractors and Raymond Holt, Gamekeeper at Emblehope
-END-
8th November 2017
For more press information and images please contact: Tony Hawkins
Tony Hawkins & Associates 01844 279863 Mob: 0797 9598 999