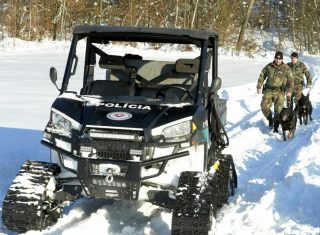 The Polaris Ranger XP900 EFI and Ranger 800 6×6 are the vehicles of choice by the Slovakian Fire and Rescue department, Border Police and Mountain Rescue Service.
Following a tender for 'Special Small Rescue Vehicles' the Ministry of Interior in Slovakia now have a fleet of 250 Polaris Rangers.
It's not the first time that a Polaris has been chosen by the Ministry either, after a fleet of 16 Sportsman 800 ATVs joined the department in 2007.
During the winter, the weather can be extremely cold in Slovakia with temperatures reaching far below zero, this combined with the cold northeasterly wind – called Bora – mean that accessories including roofs and doors are a welcome addition. With heavy snowfall and snowstorms not unheard of during the winter months, especially in the mountainous regions, the units are fitted with tracks and ploughs too.
"The fact that Polaris machines are used by the Slovakian Fire and Rescue department, Border Police and Mountain Rescue Service is testament to how fantastic the Ranger package is and the versatile functions they can be used for. They were looking for a machine which was agile and they wanted to be able to install many different accessories to ensure it met all of their needs." said Vladimir Bernik from Polaris Slovakia.
Each of the Ranger machines is customised to suit its role and features the livery so it can easily be identified – for example, the Fire Rescue machines have a 'water jet tank' on the rear box so that they can be used as the first attack during forest fires in the summer.
The Ranger XP 900 EFI features the Polaris ProStar engine – a purpose built engine developed and designed in harmony with the chassis ensuring optimal balance with smooth, reliable power. Designed to have the ultimate combination of usable power, excellent fuel efficiency and ease of maintenance.
A standout feature for this use is Polaris' High Performance True On-Demand All Wheel Drive (AWD) system – all four wheels engage near instantly when more forward traction is required and reverts back to 2WD when it doesn't. This means there's no need to wait for pressure to build up or stop to lock the differential like on some competitor machines. In 2WD, the VersaTrac Turf Mode switch locks the rear differential for easier, tighter turns that won't tear up the ground surface.
The Ministry of Interior of the Slovak Republic is a central body of state administration for: protecting the constitutional system, public order, security of persons and property, protection and administration of the state's borders, safety and fluency of road traffic, issues related weapons and ammunition, private security services, the entry to the territory of the Slovak Republic and the stay of foreigners in its territory, identity cards, travel documents and driving licences, refugees and transmigrants, registration of the population and for the Police Force, Fire Fighting and Rescuing Corps.
For further media information on Polaris ORV products, please contact the Polaris ORV Media Office on +44 (0) 1525 270100 or email us at: press@polaris-orv.media or follow us on Twitter @polarisEMEA_PR 
About Polaris
Polaris Industries Inc. (NYSE: PII) is a global powersports leader with annual 2015 sales of $4.7 billion. Polaris fuels the passion of riders, workers and outdoor enthusiasts with our RANGER®, RZR® and POLARIS GENERAL™ side-by-side off-road vehicles; our SPORTSMAN® and POLARIS ACE® all-terrain off-road vehicles; VICTORY® and INDIAN MOTORCYCLE® midsize and heavyweight motorcycles; SLINGSHOT®moto-roadsters; and Polaris RMK®, INDY®, SWITCHBACK® and RUSH® snowmobiles. Polaris enhances the riding experience with parts, garments and accessories sold under multiple recognizable brands, and has a growing presence in adjacent markets globally with products including military and commercial off-road vehicles, quadricycles, and electric vehicles. www.polaris.com