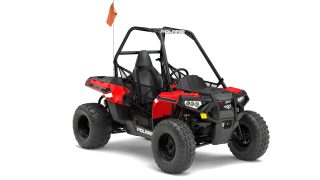 New ACE 150 EFI offers single-seat freedom for kids
Polaris, the industry leader in youth off-road vehicles, today announced another first in the category, the single-seat Polaris ACE 150 EFI, the industry's only single-seat youth model with a protective cab frame.
Modeled after Polaris ACE vehicles, the new Polaris ACE 150 EFI gives those who are 10 years old or older – age varies by market – the single-seat freedom enjoyed by their adult counterparts. Parents will love the included safety features and children will love how fun it is to drive.
Craig Scanlon, Polaris Off-Road Vehicles Chief Retail Officer, said: "Polaris continues to innovate its youth line up to provide a wide variety of safe, fun options for kids. The new Polaris ACE 150 EFI is another way for families to share the off-road riding experience together."
The Polaris ACE 150 EFI has several features to provide a safe, enjoyable ride. The 150cc, Electronic Fuel Injected (EFI) engine has four speed-limit modes. Standard from the factory the vehicle is limited to 16 km/h (10 mph). Adults are able to adjust the top speed to 24 km/h (15 mph), 35 km/h (22 mph) or 47 km/h (29 mph), based on the skills of the rider. Other safety features include LED daytime running lights, seatbelt, side nets, whip flag and parking brake. Additionally, the vehicle comes with a video explaining safe operation and a DOT-approved helmet to reinforce the importance of wearing proper safety gear.
The Polaris ACE 150 EFI offers a large ergonomic range of adjustability to grow with the driver. This includes ample amounts of headroom, tilt steering wheel and pedals, and adjustable bucket seat for growing riders. Likewise, the vehicle is the most capable youth model, featuring (15.2 cm) 6-in. of rear suspension travel, (22.9 cm) 9-in. of ground clearance, and large 22-in tires. The features enable easier maneuverability over obstacles and provide easier handling for youth riders. For added customization, the Polaris ACE 150 EFI can be accessorized with poly roof, half-windshield, and front and rear bumpers.
The Polaris ACE 150 EFI will be available in Indy Red and it is expected to start shipping late March. It joins the Phoenix 200, RZR 170 EFI, Outlaw and Sportsman 110 EFI, and Outlaw 50 as part of Polaris youth lineup.
Adult supervision is required for all riders under 16 (varies by market).  Polaris strongly encourages anyone operating an ORV to take available training. Please review your local laws and available trainings.  
For further media information on Polaris ORV products, please contact the Polaris ORV Media Office on +44 (0) 1525 270100 or email us at: press@polaris-orv.media or follow us on Twitter @polarisEMEA_PR 
About Polaris
Polaris Industries Inc. (NYSE: PII) is a global powersports leader with annual 2015 sales of $4.7 billion. Polaris fuels the passion of riders, workers and outdoor enthusiasts with our RANGER®, RZR® and POLARIS GENERAL™ side-by-side off-road vehicles; our SPORTSMAN® and POLARIS ACE® all-terrain off-road vehicles; VICTORY® and INDIAN MOTORCYCLE® midsize and heavyweight motorcycles; SLINGSHOT® moto-roadsters; and Polaris RMK®, INDY®, SWITCHBACK® and RUSH® snowmobiles. Polaris enhances the riding experience with parts, garments and accessories sold under multiple recognizable brands, and has a growing presence in adjacent markets globally with products including military and commercial off-road vehicles, quadricycles, and electric vehicles. www.polaris.com