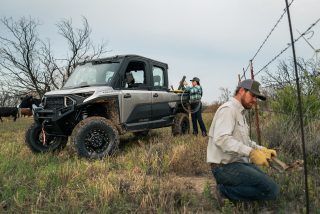 FOR DIRECT SHIPMENT MARKETS IN MIDDLE EAST AND AFRICA ONLY. NOT YET AVAILABLE IN EUROPE.
Introducing the industry's first-ever utility side-by-side with a 1500cc 3-cylinder engine for more power to make tough jobs easier and the industry's only STEELDRIVE transmission for greater durability
MINNEAPOLIS, MN (July 30, 2023) – Polaris Off Road, the global leader in powersports and off-road innovation, is once again breaking new ground with the industry's first extreme duty utility side-by-side: the all-new RANGER XD 1500. With its unprecedented capability, brute strength and unmatched comfort, the new extreme duty class of RANGER side-by-sides are engineered with the first-ever ProStar 1500cc 3-cylinder engine that offers an industry-leading 110 horsepower, the industry-exclusive STEELDRIVE automatic transmission for greater durability and precise control, and over 70 new accessories for enhanced customisation, highlighted by Polaris' exclusive Lock & Ride MAX system. The RANGER XD 1500 establishes a new benchmark for utility side-by-sides.
"We spent over five years meeting with farmers, ranchers, large acreage property owners and big game hunters to develop an extreme-duty vehicle that was missing from the market. From its ProStar 1500cc engine to the industry's only STEELDRIVE transmission, RANGER XD 1500 is unlike anything else offered today and is yet another example of our relentless commitment to advancing the industry with fresh thinking and innovative solutions that meet the real-world needs of our utility customers," said Steve Menneto, President of Polaris Off Road.

"Polaris RANGER has been the No. 1 selling utility side-by-side brand for more than 15 years and with the introduction of RANGER Extreme Duty, we've taken the industry's hardest-working lineup and expanded it," said Chris Judson, Vice President of Off Road Utility. "A segment of our utility customers said they are facing exceptionally large tasks and they simply need a machine with more power, more torque, more hauling and towing capacity, and more durability. And our team set out to deliver just that, incorporating dozens of new features and the latest engineering to make the RANGER XD 1500 more capable, stronger, and more comfortable than any other utility side-by-side out there."
Unprecedented Capability
Farmers and large landowners routinely haul and tow heavy loads around the property, and they've been asking for a solution when it comes to their heaviest tasks.  The RANGER XD 1500 delivers unprecedented capability for hard-working customers to get more done in less time. With the industry's only 1500cc utility engine, the RANGER XD 1500 provides over 30% more power and over 50% more torque than the next closest competitor.
ProStar 1500cc 3-Cylinder Engine – Effortless towing, hauling, and confidence in tough terrain with an industry-leading 110HP and 105 lb-ft torque.
680 kg (1,500 lb) Cargo Box Capacity – Three-quarter ton box capacity providing nearly 50% more box volume than existing models for maximum productivity with fewer trips and bigger loads.
1587 kg (3,500 lb) Towing Capacity – For those routinely towing heavy loads on the property, drive better productivity with nearly 40% more towing than existing models.
Industry-leading Ground Clearance – All RANGER XD 1500 models get 38 cm (15") of ground clearance with high-clearance arched A-arms to overcome large obstacles.
Brute Strength
Utility customers asked for a more durable, longer lasting offering to maximise their uptime and drive efficiency.  Designed to last longer than any model before it, RANGER XD 1500 is the industry's most durable utility side-by-side and has been engineered from the ground up to be stronger and stand up to the demands of the longest days.
Industry-exclusive STEELDRIVE transmission – Offers a 100 percent steel constructed belt that delivers smooth, precise operation and a fully sealed, liquid-cooled design for unmatched durability.

Maximum Strength and Durability – Fully sealed and liquid-cooled design allows for maximum durability and longevity with less maintenance than a rubber belt.
Smooth, Precise Control – Smooth, predictable throttle engagement and precise low speed control when backing up to trailers, navigating rough terrain, or spraying a fence line.
Effortless Shifting, Quiet Operation – Effortless shifting between drive, park, and reverse. The fully sealed design reduces operating noise for enhanced comfort.
Hill Assist – Hill Assist prevents the vehicles from rolling backwards when letting off the accelerator and brakes when heading uphill, and engages the transmission to maintain better control while descending slopes.*

High-Strength Steel Heavy Duty Frame – RANGER XD 1500 has a high-strength steel one-piece chassis featuring 160 percent more torsional stiffness for a smoother ride and better cab sealing.
Industry-leading Service Intervals – RANGER XD 1500 offers the industry's longest service intervals so customers can maximise their uptime.
Unmatched Comfort
Utility customers work from before the sun rises to after it sets, and need something that delivers all-day comfort. Beyond industry-leading capability and durability, the RANGER XD 1500 prioritises comfort across the entire lineup to keep customers going strong on the longest days.
Most Spacious Interior – Equipped with the most spacious and premium cab available in utility side-by-sides, the XD 1500 offers increased leg and shoulder room, making it easy to enter and exit the vehicle. Adjustable seating and a telescopic steering wheel let drivers find the perfect fit for height and riding preferences.
Premium Seating – Contoured seating with added bolstering provides more rider comfort along with a centre seat that flips down into an armrest with additional cup holders.
Available Heated Seats – For comfort on the coldest days.
Drive Modes – RANGER XD 1500 comes with an intuitive and easy-to-use rotary drive mode selector that lets customers choose from four different drive modes, including:

Comfort mode limits the throttle response and engine braking, reducing operating noise for a quieter ride experience.
Standard mode delivers optimal throttle response and moderate engine braking for everyday driving scenarios.
Sport mode maximises throttle response and eliminates engine braking for an exhilarating ride after the workday is done.
Tow/Haul mode maximises engine torque and limits speed for heavy payloads.

Heating and Air Conditioning (HVAC) Available – Riders can stay comfortable in harsh weather conditions with an all-new HVAC system and a fully-enclosed, next generation ProShield cab that's been redesigned with improved sealing to prevent dust and water intrusion, while locking in the temperature from the climate-controlled cab.
Sun Visors – All-new integrated sun visors provide improved visibility throughout the day for added confidence while driving.
RIDE COMMAND – Available 7" waterproof touchscreen display powered by RIDE COMMAND technology featuring a back-up camera, GPS navigation regardless of mobile service, and AM/FM radio with Bluetooth® streaming capability.
RIDE COMMAND+ – Customers can upgrade RIDE COMMAND to keep tabs on their vehicle directly from the Polaris App and access critical vehicle information like vehicle location, maintenance reminders, and issue diagnostics right from the palm of their hand with the industry's only connected-vehicle technology.
Customisation
Customers have been asking for increased versatility, durability, and ease of use for the different work applications they face throughout the day. With over 70 new Polaris Engineered Accessory options designed specifically for the RANGER XD 1500, plus options from partners brands including JBL®, Rhino Rack®, Pro Armor, Kolpin, and HD Parts, customers have more opportunity than ever before to make their vehicle fit their specific needs.
Lock & Ride MAX – Polaris' easiest to use, most versatile, and confident accessory attachment platform ever. With customisable configurations and the ability to reconfigure on the fly with no tools required, this new accessory platform allows users to prepare for their day, their way. Customers can simply choose and place their accessory, lock it in place, and ride confidently knowing their gear is secure.
New JBL® Audio – Polaris partnered with JBL® to create the highest performing audio system ever included in a RANGER from the factory. For customers wanting to turn it up a notch, the JBL® Trail Pro 4200 audio upgrade adds rear speakers and two subwoofers for an immersive audio experience.
Glacier Pro HD Plow – New 84" plow designed for faster, more efficient plowing during the winter months. A hydraulic plow lift and angle kit can be paired with an all-new plow controller to manage the largest plow Polaris has ever offered, all without ever leaving the comfort of the cab.
RANGER XD 1500 Premium
The RANGER XD 1500 Premium commands a large presence thanks to heavy-duty components and the industry's largest bumper, providing complete front-end protection. The vehicle comes equipped with one of the most comprehensive standard packages in a side-by-side to date including 29" tyres, tilt steering and seat slider for customisable comfort, four drive modes, high output LED headlights for enhanced visibility, and USB ports with multiple charging capabilities. The vehicle also comes equipped with boosted brakes and heavy-duty suspension to ensure performance across a variety of off-road environments.
The RANGER XD 1500 lineup is not yet available in Europe – to be announced at a later date.
About Polaris
As the global leader in powersports, Polaris Inc. (NYSE: PII) pioneers product breakthroughs and enriching experiences and services that have invited people to discover the joy of being outdoors since our founding in 1954. Polaris' high-quality product line-up includes the Polaris RANGER®, RZR® and Polaris GENERAL™ side-by-side off-road vehicles; Sportsman® all-terrain off-road vehicles; military and commercial off-road vehicles; snowmobiles; Indian Motorcycle® mid-size and heavyweight motorcycles; Slingshot® moto-roadsters; Aixam quadricycles; Goupil electric vehicles; and pontoon and deck boats, including industry-leading Bennington pontoons. Polaris enhances the riding experience with a robust portfolio of parts, garments, and accessories. Proudly headquartered in Minnesota, Polaris serves more than 100 countries across the globe.
*Hill Assist feature does not replace the need to pay attention while operating the vehicle and adhere to recommended operating procedures. The ability for Hill Assist to hold the vehicle in place is subject to slope and cargo weight. Please refer to owner's manual for recommended operating procedures on slopes and more information on using Hill Assist.
Kenda® is a registered trademark of Kenda Rubber Industrial Co, Ltd.
Bluetooth® is a registered trademark of Bluetooth Sig, Inc.
JBL® is a registered trademark of Harman International Industries, Incorporated
Rhino-Rack® is a registered trademark of Rhino Rack Australia Pty Limited
Unless noted, trademarks are the property of Polaris Industries Inc.