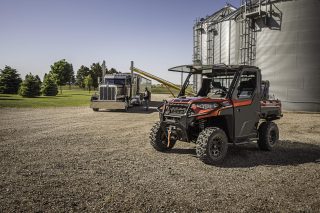 With over 1900 individual accessories available across the Off-Road Vehicle range, the range of genuine engineered Polaris Parts and Accessories is just one of the strengths of the Polaris brand.
There are thousands of combinations available for whatever the need may be – from weather protection, style, performance, winches, tyres/tracks, ploughs, audio, storage and much more – there are plenty of solutions and upgrades to choose from.
Developed by the same highly-experienced team and alongside the vehicle itself, buying genuine Polaris accessories guarantees a quick, seamless installation and a perfect fit and durability every time – as well as ensuring there's a broad range available for each model, including newly released vehicles. Official accessories from Polaris are placed under the same scrutiny and testing at the Research and Development facility in Wyoming, USA.
"We have an integrated approach to development and include our range of accessories into the wider vehicle Product Development Process (PDP). The lead engineer for the project not only is responsible for the vehicle, but oversees the accessories too meaning they undergo the same research, development and validation process as the vehicles. This integrated approach is one of our many strengths to ensure highest quality and reliability not only in our vehicles but for all add-ons.", explained Andreas Geisinger, Manager of the EMEA Parts, Gear, Accessories Business at Polaris Industries Inc.
Continuously listening to customer feedback, the accessories development never ends with existing parts being updated and improved and new ones developed.
As well as parts and accessories for permanent installation, Polaris Lock & Ride system accessories are available for most of models in the range – including the Ranger and Sportsman. The revolutionary system allows fitment and removal in seconds, meaning that accessories can be added or removed as and when they're needed.
"Easy fitment and mounting solutions for our accessories come within the standard vehicles already. For example, wiring for winches, audio, lighting is already in the frame and offers plug and play solutions. The mounting points for a plough are integrated in the vehicle frame so no additional modifications need to be done. Users simply need to ride over the plough and attach it."
To help customers and dealers, commonality amongst accessories is a strategy Polaris are progressing.
"The accessories don't just fit on a single machine – we develop them to have commonality when possible, meaning that the items often fit on more than one machine. To give you an example, 70% of the accessories that fit the RZR 900 fit the 1000 too. Not only does this help customers who might change their machine and want to keep their accessories – it also helps our dealers with stock holding and secure availability of the right items at the point of sale."
Covering such a wide variety of markets – from snow covered mountains to sand dunes, requirements across Europe, Middle East and Africa are very diverse.
Ploughs and track systems are very popular in Nordic countries and in the Middle East, they favour high performance items with dune tyres, maximized suspension and performance upgrades.
"There are huge differences in the sales of accessories across the markets. In the UK, the cab system for Rangers is extremely popular – almost obligatory – for weather protection. In the South of Europe, our ORV vehicles are used for the olive harvesting. Core items on the ATVs are protection bars and storage."
There are many benefits to adding accessories. For utility use, these include enabling the customer to stay protected from the weather, making tasks easier and quicker to complete or providing a better level of comfort. For recreational vehicles, owners can personalize their RZR with accessories – it's a hobby and a lifestyle.
Check with your local Polaris ORV dealer to discover the range of accessories available.
For further media information on Polaris ORV products, please contact the Polaris ORV Media Office on +44 (0) 1525 270100 or email us at: press@polaris-orv.media or follow us on Twitter @polarisEMEA_PR
About Polaris
Polaris Industries Inc. (NYSE: PII) is a global powersports leader with annual 2015 sales of $4.7 billion. Polaris fuels the passion of riders, workers and outdoor enthusiasts with our RANGER®, RZR® and POLARIS GENERAL™ side-by-side off-road vehicles; our SPORTSMAN® and POLARIS ACE® all-terrain off-road vehicles; VICTORY® and INDIAN MOTORCYCLE® midsize and heavyweight motorcycles; SLINGSHOT® moto-roadsters; and Polaris RMK®, INDY®, SWITCHBACK® and RUSH® snowmobiles. Polaris enhances the riding experience with parts, garments and accessories sold under multiple recognizable brands, and has a growing presence in adjacent markets globally with products including military and commercial off-road vehicles, quadricycles, and electric vehicles. www.polaris.com