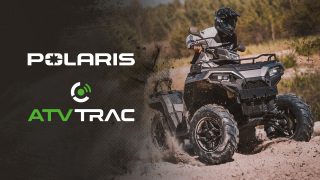 Polaris Britain is delighted to confirm an increased partnership with the leading security experts, ATVTrac, with the news that all new adult machines from Polaris will be equipped with the proven tracker as standard from today (October 1st).
With theft an ever-increasing threat for owners of off-road vehicles, Polaris was quick to embrace tracking technology in 2016, endorsing ATVTrac for fitment on its machines via its authorised dealer network. With such positive feedback from both dealers and customers, Polaris Britain was confident enough to make sure that the comprehensive and proven security system now comes standard on all its adult machines.
Polaris Britain's Richard Coleby explained, "As we all know, theft is a big challenge for everyone connected with off-road vehicles. Everyone has either experienced it themselves or knows someone who has, and so we feel a responsibility as a manufacturer to help with the fight.

"We've worked with many systems and products over the years, but in our experience, tracking is really the only truly effective way of making sure that if you are a victim, you stand a good chance of getting your machine back. The ATVTrac system for us, is the best available, with well-developed dedicated technology as well as support and back-up, hence our initial endorsement and now this move to make it standard across the adult range."
ATVTrac's technology and rich feature-set comes from over a decade's worth of experience, having protected two-wheel products for many years alongside its dedicated off-road vehicle offering too. In this period, the group has managed a 94% recovery rate and recovered over £10m worth of stolen machines in the process, with updates and new features added along the way.
Rupert Archer Smith of ATVTrac, added, "We're delighted to extend our partnership with Polaris. We take security very seriously and have always focussed on providing a quality product with exceptional customer service, an approach that we believe dovetails with Polaris and their products perfectly. We hope customers see this as a significantly important feature when considering their options for a new ATV or side-by-side and look forward to working with the Polaris, their dealers and customers."
ATVTrac's small and discreet unit boasts GPS, GPRS, GSM and RF technology, enabling recovery of stolen machines in some of the most difficult locations. Owners have the benefit of logging into the dedicated app (or via web browser) to see the live location of their vehicle, as well as checking battery level and even checking journey history. On top of the security functions that will text, email and call should the vehicle be unlawfully moved, ATVTrac even notifies users when a service is due and can monitor lone workers for added peace of mind too.
As well as working with all major police forces and having a dedicated 24/7 team, ATVTrac is also partnered with global security services provider, Securitas, working to secure stolen machines in circumstances where police resources are stretched.
To find out more about Polaris working with  ATVTrac, please visit your local Polaris ORV dealer or visit www.polarisbasecamp.co.uk