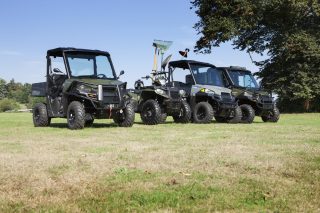 Polaris arrives at the Royal Highland Show with an impressive line-up of the new Polaris Ranger Diesel Side by Side utility vehicle, the exciting new Sportsman XP1000 ATV and the versatile Sportsman X2 570.
The new 2017 Ranger Diesel HD comes with more torque, more towing power, Active Descent Control for controlled hill descents, with automatic four-wheel braking and Electronic Power Steering. A new 7-pin trailer socket now comes fitted as standard and comfort is ensured with the Lock & Ride® Pro-Fit cab system and a whole range of accessories. The highly modular design offers options from robust canvas doors and a poly windscreen, to premium automotive glass tip-out windscreens and electric windows. The roof and rear panel on the 2017 Ranger Diesel come as standard. The Ranger Diesel HD is built for purpose with a 1028cc Kohler 3-cylinder overhead cam liquid cooled engine.
The new Polaris Sportsman XP1000 is the most powerful ATV ever, with its 90 horsepower 1000 Twin EFI engine and it's packed with premium performance features. Three-mode throttle control, Bluetooth connectivity, high clearance dual arched A-arms and new modular rack extenders with Lock & Ride® join high performance close ratio On-Demand All Wheel Drive on this outstanding machine. It incorporates new, sport inspired Rider Active Design with its body style, dual zone sculpted seat, new front lighting and LED taillights, flared bumpers and deep footwells. Electronic Power Steering is standard, there is a high performance stainless steel exhaust system and even an integrated beverage holder. The Sportsman XP1000 is impressive and demands to be seen.
If you want a totally capable off-road ATV with the option of carrying two people, look no further than the Polaris Sportsman X2 570. With its Active Descent Control it is a serious contender as a working vehicle on steep hills, with all the power you need to take two people up the steepest inclines and bring you safely back down, with the Engine Braking System and ADC automatically engaging on all four wheels for optimum traction and control in all conditions. If you want the utility and capabilities of a traditional farm pick-up with the agility of a quad the Sportsman is just that, with Electronic Power Steering and the refinement of the world's best-selling ATV's legendary attributes. Independent Rear Suspension, with 24.1 cm of rear travel, On-Demand True All-Wheel Drive, a massive 556kg of towing capacity and the dump box with its tipping facility for quick unloading make it an easy choice.
All new Polaris ATVs and UTVs, except Youth models, now come with Datatag Cesar security systems for additional peace of mind. Polaris will be working closely with Polaris authorised Scottish dealers, bringing to the Royal Highland Show wide knowledge and experience of what visitors are looking for in their All-Terrain Vehicles.
Royal Highland Show: 22nd – 25th June 2017
Polaris Britain Ltd. 0800 915 6720 www.polaris-britain.com
-END-
May 2017. For more press information and images please contact:
Tony Hawkins Tony Hawkins & Associates 01844 279863; Mobile: 0797 9598 999