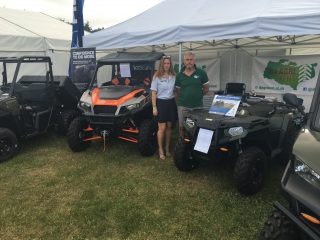 Polaris has appointed DJ Agri Kent as authorised Polaris dealer for Kent and East Sussex. The Faversham based dealership, which moved to new premises in 2016, was formed by business partners Damian Arthur and Suzie Boyd and grew out of Damian's experience as an agricultural engineer. He also owned and ran his own Polaris Ranger which prompted the initial contact and that coincided with Polaris looking for a new dealer to cover the county and into East Sussex.
"We're very pleased to welcome DJ Agri as our new dealer for Kent," says Polaris Country Manager, Jim Clarke, "they offer all the right experience to provide excellent sales and support for Polaris customers and have already made good sales in the area. We look forward to helping them develop the business."
DJ Agri currently have a Polaris Ranger Diesel, a Ranger 570, Sportsman 570 and ACE as demonstrators and have shown them at a number of local and county shows; which have successfully led to orders for Polaris UTVs and ATVs, ranging from forestry to private leisure and amenity businesses. This is backed by their parts and servicing alongside their engineering and fabrication which is at the heart of what they offer. They provide all aspects of fabrication, repairs and a bespoke design service for agricultural improvements and equipment.
Polaris Britain: 0800 915 6720 www.polaris-britain.com
-END-
Photo caption: DJ Agri partners, Damian Arthur and Suzie Boyd at the Kent County Show.
2nd August 2017
For more press information and images please contact: Tony Hawkins
Tony Hawkins & Associates 01844 279863 Mob: 0797 9598 999