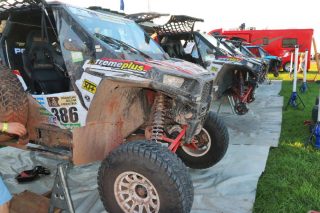 In just under two weeks time, the world's toughest race makes its debut in Paraguay, kicking off the 39th edition of the legendary Dakar event, with Polaris looking to secure its sixth win and take the event's very first SSV class title in the process.
Arguably the most successful brand to enter with side-by-side vehicles (SSV), Polaris has notched up an incredible five event wins to date and will enter the 2017 race again with the hugely experienced XtremePlus factory team, fielding five specially prepared RZR XP 1000s.
Claiming victory at their first attempt in 2012, the French-based XtremePlus team for 2017 is made up of five different driver pairings, consisting of four nationalities, all with the aim of winning the very first officially recognised SSV Dakar Title.
XtremePlus Team Principal Marco Piana explained: "This year we go to the Dakar bigger and better than ever. We have five crews in RZRs from all corners of the earth with huge combined experience. Drivers representing our official programme come from Brazil, China, France and Russia with experienced crews and two rookie pairings also. We take each day at a time but come better prepared than ever before with the our RZR 1000 XTs".
Beginning on January 2, the 2017 edition of the Dakar will be split into seven sections with the crews covering over 9,000km in total, with 4,000km of those competitive stages.
Based on the standard Polaris RZR XP1000, the factory 'XT' Dakar racers have undergone special preparation at the hands of the hugely experienced XtremePlus team, working in close association with factory engineers in the USA.
Piana added: "Our team in France have considerable experience both in race preparation of the Polaris RZR racers and specifically in the Dakar. With experience in five Dakar races, we know generally what to expect, but of course complacency is never an option. We feel honoured to be the only factory-backed team in this prestigious event and look forward to beginning the race now."
Following a technical scrutineering inspection at Le Harve last month, the XtremePlus machines and support equipment were loaded for shipment to Argentina, arriving in good time for the start of the Dakar in January.
The XtremePlus Polaris Team consist of the following crews:
No. 342 MAO RUIJIN / SEBASTIEN DELAUNAY (CHINA / FRANCE)
No. 351 LEANDRO TORRES / ROLDAN LOURIVAL (BRAZIL)
No. 374 LI DONGSHENG / QUANQUAN GUAN (CHINA / CHINA)
No. 378 MAGANOV RAVIL / KIRILL (RUSSIA / RUSSIA)
No. 386 WANG FUJIANG / LI WEI (CHINA / CHINA)
Fore more information on the Polaris entry into the 2017 Dakar, please follow the XtremePlus team on Facebook at https://www.facebook.com/infoxtremeplus/
For more information on the Dakar that takes place between January 2 and 14, please visit www.dakar.com
For further media information on Polaris ORV products, please contact the Polaris ORV Media Office on +44 (0) 1525 270100 or email us at: press@polaris-orv.media or follow us on Twitter @polarisEMEA_PR
About Polaris
Polaris Industries Inc. (NYSE: PII) is a global powersports leader with annual 2015 sales of $4.7 billion. Polaris fuels the passion of riders, workers and outdoor enthusiasts with our RANGER®, RZR® and POLARIS GENERAL™ side-by-side off-road vehicles; our SPORTSMAN® and POLARIS ACE® all-terrain off-road vehicles; VICTORY® and INDIAN MOTORCYCLE® midsize and heavyweight motorcycles; SLINGSHOT® moto-roadsters; and Polaris RMK®, INDY®, SWITCHBACK® and RUSH® snowmobiles. Polaris enhances the riding experience with parts, garments and accessories sold under multiple recognizable brands, and has a growing presence in adjacent markets globally with products including military and commercial off-road vehicles, quadricycles, and electric vehicles. www.polaris.com