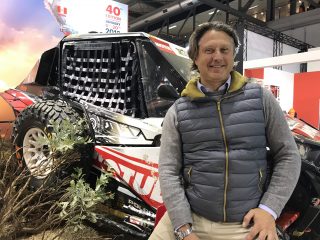 As the world's toughest race gets set to kick into action once again in January, reigning SSV Dakar champions, Polaris, are better prepared than ever to defend their title.
Polaris became the very first official Dakar SSV class winners in 2017, after Leandro Torres and co-driver Lourival Roldan took the title in their factory Xtreme Plus Polaris RZR, Polaris will enter the event with the hugely experienced French-based team, fielding five specially prepared RZR XP 1000s and RZR XP Turbo.
Having left the port of Le Havre in November, the race-ready Polaris RZR vehicles have already begun their journey to Peru, the starting location to the 2018 Dakar – the 40th edition of arguably the world's toughest race.
The Xtreme Plus team for 2018 is made up of five driver and co-driver pairings, made up of five different nationalities, with the aim of bringing home the class win for the second consecutive year.
Starting on Saturday 6 January, the 2018 edition of the Dakar will be split into seven stages with the teams covering over 8,000km in total, with 4,000km of those competitive stages. The finishing point is Córdoba on Saturday 20 January – where competitors can enjoy a 'Fernando' – the name locals give the national cocktail.
Xtreme Plus Team Principal Marco Piana said: "Last year, we went to the Dakar with a strong line-up and came away with the win – this year, we plan to do the same. We have drivers and co-drivers from Peru, Brazil, France, Spain and Switzerland. We have spent a long time preparing for this and with the performance and reliability of Polaris, our aim is simple, to defend our title."
Here's a look at the full Polaris Xtreme Plus line-up:
Anibal Aliaga (Peru) and Juan Pedro Cilloniz (Peru) – #388
It will be the first time Anibal will compete in the Dakar. This year, he has completed six dates of the Peruvian Cross Country championship – a series he finished in second place in 2015. He has a strong racing pedigree: nine-times National Champion of the aquatic motorbikes, two-time South American Champion and 2016 World Champion of Jet Raid.
Anibal said: 'For this Dakar, with the quality of support that Xtreme Plus and Polaris provides, my aim is not to just cross the finish line or arrive on the podium, but I believe we have a strong chance to get the title. I'm training hard to get a good result."
Claude Fournier (France) and Hervé Lavergne (France) – #387
Claude took part in the Dakar in 1991 in a Toyota and raced in Rallye Raid in 2017. He races in all the big races of the year and achieved a podium finish in the T3 World Championship Fia Cross Country. Co-driver, Hervé is extremely experienced with five Dakar's under his belt, two Africa Race and many Fia Cross Country Rally.
Claude said: "I'm happy that at the end of the 2017 racing season I will be finishing at the Dakar. I was able to reach the town of Dakar Senegal in 1991 and will do my best to reach Cordoba this year. Hervé is more than just a co-driver. We have had a great season together and I know that he will always be helping me – even in hard situations."
Patrice Garrouste (France) and Steven Grenier (Switzerland) – #361
Patrice comes from a background of circuit racing – where he achieved many podiums over the course of his career. He always loved to race cross country and over the last few years, he has taken part in a number of Fia Cross Country rallies with Xtreme Plus. In 2016, he raced the Dakar in a DAF truck and finished 22nd overall.
Steven reflects the essence of the Xtreme Plus team. He is a member of the team who was pivotal to a number of the biggest successes of the team. A 35-year-old engineer, he built the first XP900XT+20 that won the Dakar with Willy Alcaraz in 2012. He also developed the XP1000XT+30 which races to a podium finish in every race it competes in. Steven raced with Marco, Team Manager of Xtreme Plus, in the fast assistance Truck and Car in the Dakar five times. This year, he and Patrice will be racing the RZR XP Turbo.
Patrice said: "Racing on the dunes is one of my strengths so going into this race with the new Turbo machine and with someone like Steven as my co-driver, makes me think we will have a very nice race."

Steven said: "This will be my first experience co-driving in a fast car and only racing – instead of being assistance too – so it will be a great challenge. I have worked on the development of the Turbo so I know the machine very well. We will try and have fun – and do our best."
José Luis Peña (Spain) and Rafael Tornabell (Spain) – #396
José Luis Peña started to race few years ago in Spanish Cross Country Rally in a Polaris and since then, he's not stopped. This year, he finished second overall in the Spanish National Championship and also raced in the Morocco Oilibya Rally as his first really big marathon Rally and finished in second place in the T3 category. The 2018 Dakar will be his first big adventure and his goal is to finish.
Co-driver will be the very experienced Rafael Tornabell – a racer so experienced, it is impossible to list all of his achievements. The 2018 Dakar will be his 20th Dakar.
José Luis Peña said: "To compete in the Dakar is my dream. Ever since my first race in the Spanish National Championship, my goal has been getting ready for the Dakar and now, here I am. I met Marco in May and after seeing what a brilliant job Xtreme Plus do, then I knew that I could achieve my dream with them. I am sure that having Rafa with me will be the key to our success."

Rafael said: "This will be my 20th Dakar, but for me, it is always like it is the first one. I love what I do. I love Rallye Raid – it is all of my life, so to help a wonderful person like José Luis to reach Cordoba will be my pleasure. I've raced with Xtreme Plus for four years and I know that they will also do all they can to make his dream come true."
José Jorge De Barros Sawaya (Brazil) and Marcelo Duarte Haseyama (Brazil) – #378
Already racing together, José Jorge De Barros Sawaya and Marcelo Duarte Haseyama both know each other well and achieved some fantastic results.
José Jorge De Barros Sawaya, known to everyone as Zeca, started to race the Rally dos Sertões on a motorcycle and in 2017 he finished in fourth position in the UTV category. He is very good friends with 2017 SSV class winner, Leandro Torres who suggested that he should join the Xtreme Plus team and take part in the Dakar.
José Jorge De Barros Sawaya said: "My best friend, Leandro Torres told me that this was the way to go if we wanted to compete in the Dakar. So let's go and try and bring back to Brazil the Legendary Trophy of Dakar."
The Xtreme Plus Polaris Factory Team doesn't just end with the five Polaris prepared machines. The full team is behind the Dakar efforts – with the Team Manager Marco Piana also taking part in the race in a fast assistance Toyota T2 with David Giovanetti, the technical mechanic for Polaris. Alongside the truck there will be three 6×6 trucks carrying over 30 tons of material and three fast assistance cars on the road sections.
A special mention too to the strong team of mechanics who will aim to make the driver's dreams come true including Chief mechanic, Manu Jaillot and his team: Adrianao Peirera, Renzo Fortichiari, Paco Fernandez, Alexis Bourcet, Christophe Chavot, Alexis Herrmann, Guillaume Verne and Delmastro Giacco Renato. Ana Figueroa is in charge of logistic organisation and communication and Cedric, Gilles and Cyril are driving the trucks.
Ten years ago, Polaris changed the off-road world forever with the launch of the RZR 800. At 50-inches wide, the vehicle was the first trail-capable side-by-side offering a low center of gravity, unparalleled handling, ground-hugging performance and unmatched acceleration for a true sport experience. Now, the iconic Polaris RZR is the considered the ultimate combination of power, suspension, agility and comfort. Fueled by relentless innovation, the Polaris RZR range has been designed to dominate every type of off-road terrain. From trail and desert riding to duning, rock crawling and mudding – the RZR allows users to do it all.
For further media information on Polaris ORV products, please contact the Polaris ORV Media Office on +44 (0) 1525 270100 or email us at: press@polaris-orv.media or follow us on Twitter @polarisEMEA_PR
About Polaris
Polaris Industries Inc. (NYSE: PII) is a global powersports leader with annual 2015 sales of $4.7 billion. Polaris fuels the passion of riders, workers and outdoor enthusiasts with our RANGER®, RZR® and POLARIS GENERAL™ side-by-side off-road vehicles; our SPORTSMAN® and POLARIS ACE® all-terrain off-road vehicles; VICTORY® and INDIAN MOTORCYCLE® midsize and heavyweight motorcycles; SLINGSHOT® moto-roadsters; and Polaris RMK®, INDY®, SWITCHBACK® and RUSH® snowmobiles. Polaris enhances the riding experience with parts, garments and accessories sold under multiple recognizable brands, and has a growing presence in adjacent markets globally with products including military and commercial off-road vehicles, quadricycles, and electric vehicles. www.polaris.com