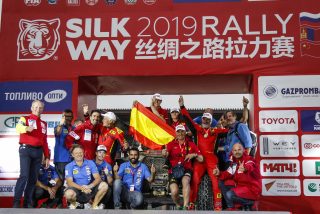 Jose Luis Pena Campo, Spanish pilot of the Polaris RZR Turbo in this year's Silk Way Rally, crossed the finish line in an incredible second place, despite facing a multitude of challenges along the way.
The ninth edition of the Silk Way Rally concluded on Tuesday 16th July after ten long and demanding stages that brought dramatic landscapes – ranging from the narrow, forest roads in Siberian taiga, to the high dunes of the Gobi Desert – and over 5,000 kilometres of relentless racing from Russia to China.
All three competitors of the Polaris Xtreme Plus team successfully crossed the finish line, with the top-placed Polaris taking second position on the SSV podium; an admirable result for José Luis Peña Campo and Rafael Tornabell Cordoba (Polaris RZR Turbo No.219) with a total time of 36h41m43s. Following behind was the British team of Graham Knight and David Watson (Polaris RZR Turbo No.251) in fourth position with a total time of 39h17m08s, and in sixth position was the Swiss team of Vincent Gonzalez and Steven Griener (Polaris RZR Turbo No.242) with a total time of 43h17m43s.
Xtreme Plus Team Principal Marco Piana said: "I'm really happy to see all three teams in the top six of the T3 category – a fantastic achievement for Xtreme Plus overall and I'm pleased for all the pilots and co-pilots that worked really hard to make the most of this extremely testing race and to get the best result possible.

"Considering the Spanish team had such an unlucky start and experienced a lot of complicated obstacles that made them stop a number of times, a second place proves they had tremendous pace throughout the race and is a great demonstration of their perseverance, navigational skills and the durability of the RZR Turbo."
Stage One – 7th July – IRKUTSK to BAIKALSK
Stage one took place along narrow forest roads in the middle of trees, presenting slippery conditions, river beds and dusty Siberian hills. A great start for two of the Polaris Xtreme Plus teams, with Gonzalez and Griener (No.242) taking the top position in the T3 category, posting the exact same time as the Russian BRP Cam-AM team, with Knight and Watson (No.251) close behind to complete the podium in third position. An unlucky start for Peña Campo and Tornabell (No.219), who came across many issues in the opening stage forcing them to lose a lot of time and finish in seventh position for the SSV category.
Stage Two – 8th July – BAIKALSK to ULAN-UDE
The second stage involved treacherous stony roads through a mountain pass with steep inclines, declines and directional changes. This meticulous stage proved a real challenge to the tyres, as well as testing the attention of the co-pilot and the pace of the pilot. The English team of Knight and Watson had a successful stage resulting in a second place overall, and the team of Peña Campo and Tornabell remain in eighth position overall. Even though they got such a great start, Gonzalez and Griener unfortunately suffered from two tyre punctures in the second stage, meaning his overall rank reduced to fifth position.
Stage Three – 9th July – ULAN-UDE to ULAANBAATAR
Stage three presented complicated, dusty tracks that were difficult to navigate amongst the hills on the way to Mongolia. Peña Campo experienced some navigational errors which wasted a lot of time, but still finished the special in a successful third place, bringing his overall position to seventh. Knight struggled to find good pace throughout stage three, reducing his overall position to third place. Gonzalez finished in eighth position after experiencing vehicle damage from a groove.
Stage Four – 10th July – ULAANBAATAR to ULAANBAATAR
The loop of stage four presented an opportunity to go fast on the dry creek beds and low hills. All Polaris pilots pushed ahead with Peña Campo increasing his position to sixth place, with Gonzalez and Knight behind in seventh and eighth position.
Stage Five – 11th July – ULAANBAARTAR to MANDALGOVI
Leg five started with many confusing parallel tracks and bought tourist sights and monuments along the way before finishing up the mountains. Gonzalez and Griener lost time after Chinese competitor #233 crashed into the side of the Polaris, but luckily no injuries. Peña Campo performed well improving his overall position to third, as did Knight who secured sixth position overall.
Stage Six – 12th July – MANDALGOVI to DALANZADGAD
Stage six was split into two timed special stages as the track had been badly damaged by mining trucks. A successful day for Peña Campo and Tornabell who finished third, as well as Knight who finished 20 minutes behind in fourth position, increasing their overall position to fifth.
Stage Seven – 13th July – DALANZADGAD to BAYINBAOLIGE
Not exactly a rest day, but no racing took place in stage seven. The teams travelled from Mongolia to China at a gentle pace, interspersed with customs formalities between the two countries.
Stage Eight – 14th July – BAYINBAOLIGE to ALASHAN
The eighth leg started with high dunes, finishing with a stretch of sand, dry river beds, ravines and canyons. An excellent stage for Knight and Watson who placed third in the special, going to fourth in the overall standings, whilst Peña Campo and Tornabell held on to their third position and Gonzalez and Griener in sixth overall.
Stage Nine – 15th July – ALASHAN to JIAYUGUAN
A fast-paced stage along sandy roads – the ninth stage of the Silk Way Rally saw beautiful scenery from the dunes of the Gobi Desert. Peña Campo lost a lot of time on the dunes after rolling on a steep decline, but thanks to the strength of the RZR, the team were able to make some small repairs and kept going with good pace to take second position in the standings, 16 minutes ahead of the third-place Can-Am competitor. Knight remained fourth and Gonzalez remained sixth overall.
Stage Ten – 16th July – JIAYUGUAN to DUNHUANG (Finish)
Finishing on the final podium at the Grand Cultural Centre in Dunhuang, the Spanish team Jose Luis Pena Campo and Rafael Tornabell took second place for the T3 category, ahead of the Xtreme Plus team Graham Knight and David Watson, in fourth. Swiss team Vincent Gonzalez and Steven Griener finished in sixth position.
Ten years ago, Polaris changed the off-road world forever with the launch of the RZR 800. At 50-inches wide, the vehicle was the first trail-capable side-by-side offering a low centre of gravity, unparalleled handling, ground-hugging performance and unmatched acceleration for a true sport experience. Now, the iconic Polaris RZR is the considered the ultimate combination of power, suspension, agility and comfort. Fuelled by relentless innovation, the Polaris RZR range has been designed to dominate every type of off-road terrain. From riding across trails and deserts to dunes, rocks and mud – the RZR allows users to do it all.
For further media information on Polaris ORV products, please contact the Polaris ORV Media Office on +44 (0) 1525 270100 or email us at: press@polaris-orv.media or follow us on Twitter @polarisEMEA_PR
About Polaris
Polaris Industries Inc. (NYSE: PII) is a global powersports leader with annual 2017 sales of $5.4 billion. Polaris fuels the passion of riders, workers and outdoor enthusiasts with our RANGER®, RZR® and POLARIS GENERAL™ side-by-side off-road vehicles; our SPORTSMAN® and POLARIS ACE® all-terrain off-road vehicles; VICTORY® and INDIAN MOTORCYCLE® midsize and heavyweight motorcycles; SLINGSHOT® moto-roadsters; and Polaris RMK®, INDY®, SWITCHBACK® and RUSH® snowmobiles. Polaris enhances the riding experience with parts, garments and accessories sold under multiple recognizable brands, and has a growing presence in adjacent markets globally with products including military and commercial off-road vehicles, quadricycles, and electric vehicles. www.polaris.com