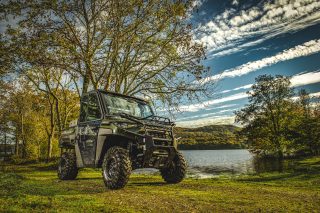 For more than 20 years, Polaris has been building off-road side-by-side vehicles that perform better, work harder, and ride smoother. One year ago in April 2019, Polaris launched its latest addition to the Ranger line-up with the brand-new Ranger Diesel, representing years of research and development to create the ultimate agricultural vehicle, inspired by its users.
One year on, Polaris look back at what went into the development of the all-new Ranger Diesel…
"The Diesel design and build process primarily started with customer feedback" – said Product Manager of Polaris Off-Road Vehicles EMEA, Frederic Mardon. "We had been in the Diesel market for a while and had a good amount of customer insight data – when we dug into the details, it was clear that our customer use patterns were very different from country to country. Over in Europe for example, the hours of use are much higher, and the environment tends to be tougher than that of our North American powersports customers. We saw the opportunity to develop our existing Ranger Diesel into a machine specifically adapted to these conditions."
The Ranger Diesel features a new diesel engine to deliver extreme durability and enhanced power, plus an increased engine service internal to over 200 hours; delivering a lower cost of ownership – just one of the many upgrades to the vehicle that made it more suited for international markets.
"We spent a lot of time in the field with farmers and small-holding owners prior to conceptualising the Ranger Diesel. The objectives were driven from the voice of the customer; improved reliability and durability, performance and refinement. Customer studies began in late 2016 and the project was approved in 2017."
With robustness and refinement being key to customer satisfaction, the Ranger Diesel features an all-new one-piece chassis design, offering a new large front bumper and a full body skid plate for 50% more protection to the underside of the vehicle. Internally, there's more legroom, 2.5cm of extra seat cushioning, less engine noise in-cab and 17% more internal storage. With customer feedback at the heart of its design, testing the new vehicle in real-life scenarios played an important role in preparing the Ranger Diesel for production.
"We made a commitment to get it right the first time or we would not launch the new Ranger Diesel. As part of this approach, we tested the new Ranger Diesel in a number of different real-life scenarios during the development process. We released consumer test units to specific European agricultural and utility customers in July 2018. Testing in their environment was essential before we made the final call to go to production, and the results and customer satisfaction was overwhelming – it gave us the confidence to release the product into production in February 2019."
One year on and the Ranger Diesel has become the benchmark for utility side-by-side vehicles in the industry, taking the foundations of the previous model and showcasing what a diesel model is truly capable of.  With refined performance, enhanced ergonomics and class-leading capabilities, the Ranger Diesel is made to perform to the highest standards for years to come, and it continues to serve its hard-working customers across Europe. Middle East and Africa.
For further media information on Polaris ORV products, please contact the Polaris ORV Media Office on +44 (0) 1525 270100 or email us at: press@polaris-orv.media or follow us on Twitter @polarisEMEA_PR
About Polaris
Polaris Industries Inc. (NYSE: PII) is a global powersports leader with annual 2017 sales of $5.4 billion. Polaris fuels the passion of riders, workers and outdoor enthusiasts with our RANGER®, RZR® and POLARIS GENERAL™ side-by-side off-road vehicles; our SPORTSMAN® and POLARIS ACE® all-terrain off-road vehicles; INDIAN MOTORCYCLE® midsize and heavyweight motorcycles; SLINGSHOT® moto-roadsters; and Polaris RMK®, INDY®, SWITCHBACK® and RUSH® snowmobiles. Polaris enhances the riding experience with parts, garments and accessories sold under multiple recognisable brands, and has a growing presence in adjacent markets globally with products including military and commercial off-road vehicles, quadricycles, and electric vehicles. www.polaris.com