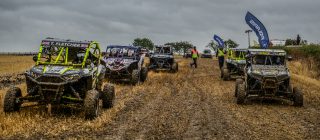 Last week was one of the most challenging weeks for the British Enduro Championship in a long time. The loss of a venue at short notice and the extremely hot weather meant the team were up against it in a big way. Round 3 of the Championship was looking more like it wouldn't run even as late as the Thursday but a wave of positivity from members saw us going for it.
The concerns were real, would people travel that far north?  Even with the amazing equipment supplied by Craig Robinson, could we control the dust? Everything we could have done to control both factors we did. The course layout was fast and wide and there was enough water to saturate the venue. We were on!
The build went well. The course very quickly took shape and everyone agreed that it would be something different and could be very popular amongst drivers. Building a course from scratch is very difficult but it allows the opportunity for creativity and the application of lessons learned from other venues. Judging by the feedback it already appears we nailed it and the positive messages received post event are very much appreciated. It was race time!
The format change for this weekend was something we had been looking to do for a while and this was our chance. A brief qualifying to sort out the pack, then two one-hour races both counting towards the result. Basically, Bastogne without the night race.
Qualifying
The presence of all the big hitters meant that some thought the results of this session were inevitable but that wasn't exactly right. Tom Fletcher took pole, surprising even himself as he battled for a clean lap. Mark McCann followed him home but almost 4 seconds split the first two. Chris McPhee took third spot as the fastest rookie proving that he can compete at the front of this very completive sport. Bailey Edwards fourth and Richard Avis fifth were split by the smallest of margins and it looked like there would be an early battle between both drivers.
Joe Robinson was the fastest of the Turbo machines in sixth place, an amazing achievement for someone so young with very little racing experience.  Keiron Weaver and Mark McPhee were next home split by less than one second – another potential battle to watch as two drivers for the same class line up together. Miles Radburn (ninth) and Scott Fisher (tenth) rounded off the top ten with nine seconds from front to rear of the pack.
Outside of the top ten it appeared that some of the strong drivers were treading safely. It was going to be a long day as rain poured down. Dust? What dust! This sensible approach saw Shaun Jenkinson and Dave Riley further down the field than most would have expected but that would prove wise as the day unfolded.  Jason Bird and Mick Edwards would have a bit to do from eleventh and twelfth as they banked on horse power to climb the field. The remainder opted for the steady away approach, Gary Smith (Fourteenth) Paul Hopkirk (sixteenth) with Richard Burke and Cameron MacDonald rounding off the grid.
Race 1
The rain just kept coming and early on the problems of the day became apparent. Tom Fletcher broke away clean and built a nice gap at the front with clear goggles his friend. However, once he started lapping later in the day he would suffer the same fate as many others. Blocked radiators and overheating!
Richard Avis pitted early for what looked like a goggle change, a very wise move which saw him push on to the race win. Chris McPhee took advantage of Tom Fletchers misfortune taking second spot and well deserved too. Tom Fletcher limped into third after leading for a large part of the race. Disappointing but the gap was achievable, given Toms pace.  Bailey Edwards was next home followed in by Mark McCann again struggling with engine cooling as the mud continued to fly.
Dave Riley climbed the field with consistency and was the first of the Open Class home. Richard Burke impressed climbing to seventh but his machine would suffer for its hard work. Scott Fisher pitted to kick out a homemade windscreen which slowed him to eighth. Miles Radburn ninth was followed in by Open Class rival Shaun Jenkinson with the Big Bird not far behind. A late mechanical failure pushed Keiron Weaver down the field with Mick Edwards struggling to thirteenth. Cameron MacDonald exited early, a fate also suffered by Joe Robinson, Gary Smith and Paul Hopkirk.
A very challenging session which saw several machines struggle to cool as the mud flew high, a mile away from the problems we had predicted.
Race 2
Race two would be watched by all as we knew who had to achieve what to affect the result. Off the line Tom Fletcher went from third to first with some bold overtakes in the early corners. Needing to make over one minute he charged clear at the front chased by Richard Avis. Tom's day would continue to be plagued after a fan failure saw him tumble down the pack as the time ticked by. Again, Richard Avis was able to make this work in his favour passing the stricken Fletcher machine and managing his gap at the front to take the race win and overall on the day. The master of the one hour had done it again.
Mark McCann also having issues with his radiator managed to nurse the Fro machine to second spot, a great result considering. Chris McPhee again was the first rookie home, loving the opportunity to lock horns with the more experienced experts. Joe Robinson was next home with another impressive drive for someone so young, a strong lap time only 5 seconds off the leader shows that this youngster has some serious potential.
Dave Riley managed his race perfectly knowing exactly who he had to beat to maintain his class lead, a strong haul of points at this round could see him secure his class title at the next round. Keiron Weaver pushed through the field after a mechanical failure saw him start from the back, again this was important to limit any damage to his class lead in the Championship.  Shaun Jenkinson and Bailey Edwards were next home with both machines suffering from the cooling issues suffered by many.
Ninth place finisher Miles Radburn wisely stayed out of trouble and seemed unable to benefit from the increased power of his turbo charged machine, this was surprising given the layout of the track and the perceived advantage this would bring. Cameron MacDonald kept himself out of trouble and chipped away lap after lap to secure tenth spot. Scott Fisher crossed the line eleventh which wasn't really a true reflection of his pace, more to come I think from the KORC Driver. Jason Bird and Tom Fletcher both suffering from radiator issues were the last of the regulars home a real shame as Toms pace was clear to see setting the fastest lap of the session by over five seconds. Proving that reliability is just as important as speed, Paul Hopkirk in his first race event was the last finisher and seemed thrilled by his first SXS event, looks like another new member to the grid, Welcome to SXS Paul and well done!
This was a very challenging event that was only made possible by the positivity of members. A massive thank you to everyone at CG Robinson for all their efforts, just by going that extra mile they helped us to pull off what was actually a very successful event considering the conditions.
Also thank you to all the drivers who made the effort to travel and to all the event staff, Marshalls, catering and the SXS Team. Special thank you as always to Catherine and Charlie Simpson for the photographs.  For race results, dates of races, venues and to get involved visit www.sxsracing.co.uk
Polaris Britain 0800 915 6720 www.polaris-britain.com
-END-
2nd August 2018. For more press information and images please contact: Tony Hawkins, Tony Hawkins & Associates 01844 279863 Mob: 0797 9598 999