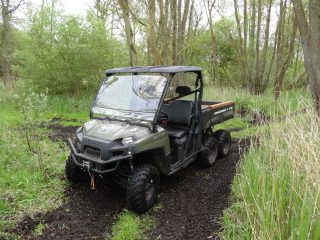 A Polaris Ranger 6×6 off-road utility vehicle has proved the ideal solution for Sculthorpe Moor Community Nature Reserve in Fakenham, Norfolk. Created and managed by the Hawk and Owl Trust, there is no more peaceful place to observe the rich variety of wildlife in the woodland, fen and reed bed habitats across the beautiful Wensum Valley. Here you can look out for tawny and barn owls, marsh harriers, kingfishers, buzzards, bullfinches and marsh tits as well as voles, stoats, weasels and many more species.
Much of the area is marshy ground, with scrub and a high water table so it takes a special vehicle to carry out the wide variety of tasks demanded by the need to access an area with no roads. The Trust first saw a Polaris 6×6 model at Lamma, the agricultural show, and local Polaris dealers, Linstead Farm and Garden Machinery, provided a Polaris Ranger 6×6 for testing. The Ranger went up against several other machines on test.
"We needed a machine that could cope with our particular terrain, with no roads and a lot of marsh areas," says Adrian Blumfield, Executive Director, "We have a huge number of volunteers, some more senior in years, who need to get around the site for planting, building hides, coppicing and generally looking after the habitat. In the test the other vehicles very quickly got stuck. The Polaris was the only one which did not."
The Ranger 6×6 has six-wheel Independent Suspension with up to 9.6" of travel and 12" of ground clearance, which, coupled with its powerful 800cc engine, enables it to deliver exceptional off-road traction and a smooth, comfortable ride. Another consideration is the large amount of tools and equipment the Trust volunteers have to carry and the Ranger offers a roomy 39 gallon capacity with huge rear storage boxes. The rear dump box has a 1,250 lb capacity for larger loads and, most importantly, the 1 tonne towing strength is more than enough to manage the draw bar weight of the Trust's large trailer.
The Hawk and Owl Trust is a registered charity and the Polaris Ranger 6×6 has been kindly anonymously donated. The Trust's work began conserving owls and other birds of prey and now does much more, increasing knowledge and appreciation of them while creating, managing and conserving habitats that support associated species. The Ranger will have a strong role in Sculthorpe Moor's research, conservation of the wildlife reserves, running of education centres and ongoing projects.
Polaris Britain Ltd.
0800 915 6720
-END-
May 2017. For more press information and images please contact:
Tony Hawkins Tony Hawkins & Associates 01844 279863; Mobile: 0797 9598 999