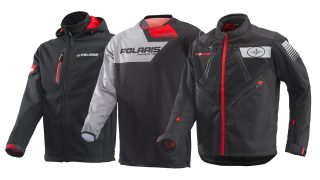 Polaris Off-Road Vehicles has announced a new collection of technical clothing now available in Europe, Middle East and Africa.
The new Polaris Off-Road collection has been designed and produced in collaboration with Kenny Racing – the well-known French MX and off-road apparel brand. With the off-road expertise of Polaris and the technical design and production experience of Kenny, the collaboration introduces a range of innovative and practical riding apparel. No matter the task, journey or weather, the Polaris Off-Road clothing collection will ensure every rider is well prepared.
Andreas Geisinger, Parts, Gear and Accessories Manager at Polaris Off-Road Vehicles EMEA, said: "With a vehicle that pushes the limits off-road, our customers' clothing needs to do the same – which is why we've teamed up with Kenny Racing. With decades of experience in designing, developing and producing technical off-road kit, Kenny is the perfect partnership for the new Polaris 2019 riding apparel range, and we're very excited to launch the collection designed specifically for our most demanding riders."
Technical Apparel
The new Polaris Off-Road technical jacket is the perfect blend of breathability and water resistance. With a mesh inner lining for breathability, as well as ventilation panels on the chest and sleeves, the jacket allows airflow directly to the body to keep riders cool in all conditions. The ventilation panels are protected by a waterproof zip closure, and the jacket is constructed with Polyester, meaning it is not only waterproof, but also lightweight for riding comfort and manoeuvrability. The jacket has a short rally-style cut – lower at the back and higher at the front – providing ultimate comfort whilst sitting in the Polaris vehicle. There's also a water pipe exit at the front, plus Velcro waist adjustors for the perfect fit.
The matching Polaris Off-Road technical pants are made with Cordura® 1000 denier stretch fabric – a durable and resistant fabric against abrasion and tearing – along with stretchy Spandex inserts for flexibility and comfort in any position. Water-resistant and ultra-light, the technical pants also feature two waterproof cargo pockets, ventilation panels on the front with a waterproof zip closure, and both waist and leg adjustors for optimal fit.
Polaris Racing Apparel
The Polaris Racing softshell jacket is ready for the off-road no matter the weather. Featuring a waterproof, windproof outer with a breathable mesh inner membrane, plus a ultra-soft inner fleece for comfort, the versatile softshell jacket can be worn both in and out of the vehicle. Styled with large Polaris Racing branding across the back, along with Polaris logos on the sleeves and chest, the jacket comes in black with contrasting red details such as red Velcro adjustors on the cuff, red inner hood lining and plastic-moulded, waterproof zips.
Also introduced as part of the collection is the Polaris Racing technical jersey; an off-road jersey designed for the trail and purpose built for the hardcore. With a 100% lightweight Polyester construction, the jersey wicks moisture to keep riders feeling cool and fresh, whilst the slim Lycra wrist cuffs and athletic-cut collar guarantees comfort. For style, the technical jersey has a raglan-cut red, black and grey colour scheme in a geometric design, with Polaris Racing branded graphics across the chest and lower back, plus Polaris logos up the sleeves.
Casual Apparel
For casual, day-to-day style and comfort, Polaris has announced two new outerwear items and a casual top; all with a subtle black and red off-road design.
For a relaxed but smart look, the Polaris polo top is ideal for any riders' wardrobe. Made with 100% Polyester and finished with simple, effective details; there's contract stitching on the collar and sleeves, discreet Polaris branding on the chest and sleeve, plus a woven badge on the lower back.
The new casual Polaris gilet is constructed with 400T Nylon material and ribbed with lightweight, thermal anti-down padding, plus a padded Polyester lining to enhance comfort and thermal capability.  There's also two front outer pockets and an internal chest pocket, and the gilet is finished with a soft, elastic hem on the arm.
Also new for 2019 is the Polaris puffer jacket; perfect as a coat for colder days, or even as a mid-layer jacket whilst riding on the trails. The anti-down padding with padded Polyester lining ensures warmth, whilst the elastic cuffs and strong zip seal out the elements. With three outer pockets including a chest pocket, a removable hood, plus low elastic adjustors on the inner body.
Protective accessories
Brand-new for 2019 is the Polaris SF Tech gloves. Fully CE-certified for motorcycle use both on and off road, the gloves incorporates a flexible Thermo Plastic Rubber design across the bank of the hand and fingers, padded palm inserts for enhanced abrasion resistance, and metacarpal reinforcements for high levels of protection, flexibility and comfort. Lightweight, perforated on the fingers and optimised for the off-road, there's a silicone print on the fingers for improved grip, as well as a short cuff with Velcro adjustment.
A dynamic, streamlined jet helmet designed for off-road use, the new Polaris Off-Road helmet has a double lens system; one long clear visor plus a retractable, internal sun visor. On the outside, the Polycarbonate shell is finished with eye-catching, integrated safety quarter lights, plus a glossy Polaris paint design. Coupled with a soft interior lining which is removable and washable, and high ventilation thanks to a number of ergonomically-placed vents, the helmet is perfect for any off-road adventure. Meets ECER 22-05 standard.
For further media information on Polaris ORV products, please contact the Polaris ORV Media Office on +44 (0) 1525 270100 or email us at: press@polaris-orv.media or follow us on Twitter @polarisEMEA_PR
About Polaris
Polaris Industries Inc. (NYSE: PII) is a global powersports leader with annual 2017 sales of $5.4 billion. Polaris fuels the passion of riders, workers and outdoor enthusiasts with our RANGER®, RZR® and POLARIS GENERAL™ side-by-side off-road vehicles; our SPORTSMAN® and POLARIS ACE® all-terrain off-road vehicles; INDIAN MOTORCYCLE® midsize and heavyweight motorcycles; SLINGSHOT® moto-roadsters; and Polaris RMK®, INDY®, SWITCHBACK® and RUSH® snowmobiles. Polaris enhances the riding experience with parts, garments and accessories sold under multiple recognisable brands, and has a growing presence in adjacent markets globally with products including military and commercial off-road vehicles, quadricycles, and electric vehicles. www.polaris.com